Jackie F
Bird ID: C2018032
Species: Parakeet
Sex: Female
Sub-Species: Standard Budgie
Health Status: Healthy
Good with Kids: Unknown
Well Socialized: Unknown
Adoption Status: Foster on 2019-02-25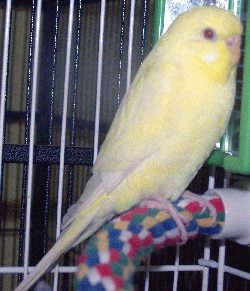 My Sponsors: Sponsor Me!
If you're approved to adopt, click here to email my adoption coordinator.
To learn more about fostering or adopting our birds, please click here.
---
Hi, I`m Jackie, so named because I was found by a Jack in the Box in Santa Clara by a good Samaritan who carried me in her hands to a nearby vet`s office. My new foster parent weighed me upon arrival, and I`m a healthy 31g. I`m very chatty in my new locale, and not shy about travelling in the car. Hey, don`t cover me with a towel, I wanna watch the traffic and the scenery! I am lively and alert, and my feathers look good, so maybe I just finished a molt. I eat Avicakes and will nibble at lettuce and snow peas. Wouldn`t I look lovely in YOUR forever flock?