Give NOW to help our 400+ birds!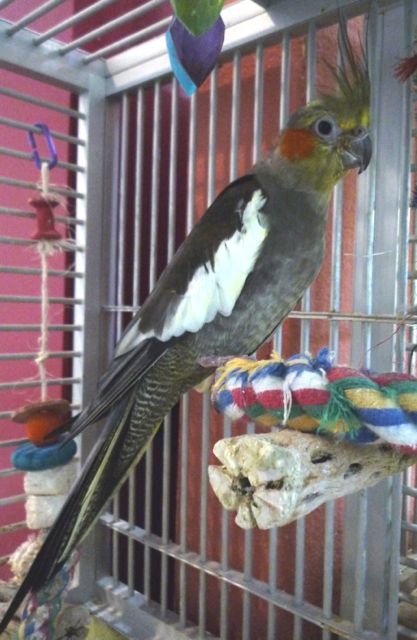 The last 2014 GlobalGiving matching gift opportunity is happening NOW.  Our volunteers and our foster birds hope you'll take advantage of it.
On Oct 15 (now!), from 6 am PT - 9 pm PT, GlobalGiving will match your online donations at 30%, up to $1,000 per donor, until GlobalGiving has given away $75,000 of matching funds for all of its projects. Go to Mickaboo's GlobalGiving page  now before the match runs out!
Your generosity helps fund the veterinary bills for birds like Nora (a cockatiel now in remission from cancer, pictured), Chacco (recovering from wing and chest wounds), and many other birds like them. Our newly-published Fall newsletter speaks to some of the work Mickaboo volunteers do, to enhance the quantity and quality of life for the birds in Mickaboo's care.
Please consider helping us with Nora's, Chacco's,and our other birds' medical needs by participating in this matching gift  campaign.  Our goal is to raise $20,000, about half of this past month's veterinary expenses, and ANY amount you give will be appreciated!   If you would prefer to donate in a more traditional way, we will of course welcome your checks at PO Box 697, San Jose, CA  95106.
Watch this space for updates on our progress toward the $20K goal!  Email us at donations@mickaboo.org with any questions.