Tiedye (bonded with Poplar)
Bird ID: 7545
Species: Lovebird
Sex: Male-Female Bonded Pair
Sub-Species: Peach Faced
Health Status: Special Needs
Good with Children: Unknown
Well Socialized: Unknown
Currently in Foster Care
Sponsor Me!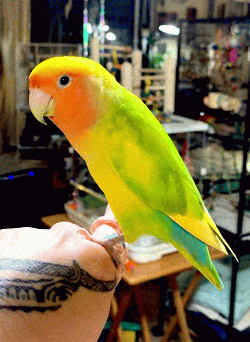 If you're approved to adopt, click here to email my adoption coordinator.
To learn more about fostering or adopting our birds, please click here.
---
Hi I`m Ti or Tiedye if you`d rather. I have had a bit of a rough go of it and am a bit under the weather but we are trying to remedy this. I recently lost my mate as well so a bit sad. It does help to be in a home with other lovebirds I can talk too and the budgie is quite entertaining. I do prefer men as that`s pretty much all I have know but this foster mom seems pretty nice so I have been well behaved and gentle with her. I am learning to like veggies but I`m not sure if those pellet things. I am a pretty nice bird (I really prefer men!)and hopefully I will feel better soon! Check back in for updates. . . Tweet tweet, Tiedye Update 4/28/2023 Tiedye is now in love and bonded with Poplar. While still dealing with some liver issues he is feeling much better also and eating pellets and fresh foods! He is very curious and loves to sit on his foster mom and help while prepping all the birds fresh foods. Tie is a real character and overall really great bird! If you are interested in adopting Tie and Pop please click the appropriate link above.