Poplar (bonded with Tiedye)
Bird ID: 7504
Species: Lovebird
Sex: Male-Female Bonded Pair
Sub-Species: Fischers
Health Status: Unknown
Good with Children: Unknown
Well Socialized: Unknown
Currently in Foster Care
Sponsor Me!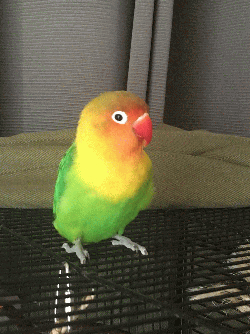 If you're approved to adopt, click here to email my adoption coordinator.
To learn more about fostering or adopting our birds, please click here.
---
Hi I am Poplar. They don`t know much about me as I came in as a stray. I am afraid of hands but I`m super cute! They are currently trying to find me a friend but at least I get to talk with the other lovebirds here so that is nice. Do you have a bird I can be friends with? Click the link above Tweet later, Pop Update 4/2023 Poplar and Tiedye are now a bonded pair. Both birds are doing very well, eating good foods and very happy!