Millie
Bird ID: 7443
Species: Other Rare
Sex: Unknown
Sub-Species: Canary-Winged Parakeet
Health Status: Healthy
Good with Children: Unknown
Well Socialized: Unknown
Currently in Foster Care
Sponsor Me!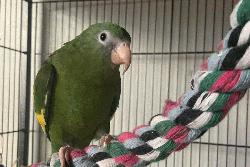 If you're approved to adopt, click here to email my adoption coordinator.
To learn more about fostering or adopting our birds, please click here.
---
I`m Millie. I have a great voice and love to sing along with other birds. I enjoy eating cracked nuts and especially Pecans and walnuts!l I am not a fan of being handled but like being talked to. I also like taking baths. I came from a bad situation and was housed with a variety of other breeds in a small cage and kept outdoors. I am happy now but would love a forever home with other birds that can keep me company.