Peela
Bird ID: 6953
Species: Ringneck
Sex: Female
Sub-Species: Indian
Health Status: Special Needs
Good with Children: Unknown
Well Socialized: Yes
Currently in Foster Care
Sponsor Me!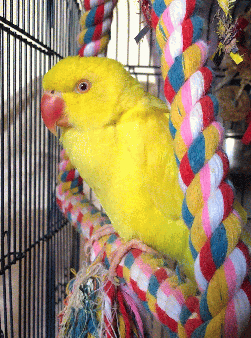 If you're approved to adopt, click here to email my adoption coordinator.
To learn more about fostering or adopting our birds, please click here.
---
Peela is a sweet female Lutino Indian Ringneck who just came back to Mickaboo. She enjoys human company and shoulder surfing. She has some inflammation around her nerves which triggers her to pluck her feathers. But it's not truly bad, she still looks beautiful. This is likely caused by the very common Avian Borna Virus, which is not a problem for humans but can be transmitted to other birds. That's why Peela needs a home where she is an only bird or a home where other birds are confirmed to have the virus as well.