Rosie
Bird ID: 6951
Species: Cockatoo
Sex: Male
Sub-Species: Rose Breasted
Health Status: Healthy
Good with Children: No
Well Socialized: No
Currently in Foster Care
Sponsor Me!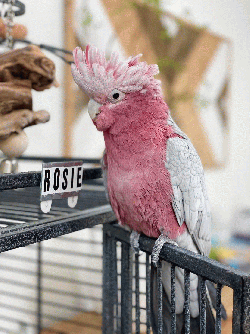 If you're approved to adopt, click here to email my adoption coordinator.
To learn more about fostering or adopting our birds, please click here.
---
Rosie is a beautiful 12 year old male Galah also called a rose breasted cockatoo. He`s very special and has gone through a lot with changes in homes as his first owner was no longer able to care for him. Rosie is relatively quiet especially compared to other louder breeds of cockatoo. He will talk and can scream if stressed. He is used to going to sleep quietly at night and is not used to having his cage covered. He is ok with our piano playing (in another room) and he also seems to co-exist well with very calm and respectful dogs and cats. Ours are in the same room (they do NOT bother him) and he is not bothered by them. I do not recommend him for young kids because of his propensity to bite unless your kids are great at following directions and very respectful around pets. He has learned to target train and will also step up on myself and husband (now that he`s known us for several months). Rosie can say words like "hello", "hi", "what`s going on", "pretty bird" and he loves to talk to people he feels comfortable with. Because Rosie can be territorial with his cage, he can bite hard if you reach into his cage. However, he does really enjoy being pet when it`s on his terms (he shows this by bending over so you know it`s safe) and talking! He loves being in the same room as his people and will make some alarm sounds if he`s left alone. He is used to eating Roudybush medium Pellets and LaFeber cockatoo Nutriberries (1-2 a day). His favorite treats are almonds, walnuts, grapes and blueberries. He had a recent health check-up by an avian vet and looks to be very healthy!