Nod
Bird ID: 6775
Species: Finch/Canary
Sex: Female
Sub-Species: Finch
Health Status: Terminally Ill
Good with Children: Unknown
Well Socialized: Unknown
Currently in Foster Care
Sponsor Me!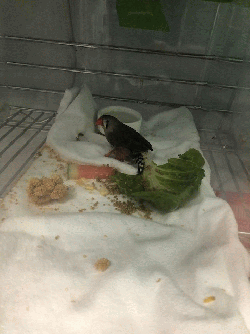 If you're approved to adopt, click here to email my adoption coordinator.
To learn more about fostering or adopting our birds, please click here.
---
Hi, I`m Nod! I live with Peppercorn and we are both special needs finches. I am missing a foot and I have tumor on my leg that is not treatable, so I am living out my days in a nice home where I get good food and safe space to fly around a little in a padded cage. I was rescued from a big aviary surrender situation where there were lots of finches over breeding and poor conditions, so lots of us had some health problems.