Izzy F
Bird ID: C2019018
Species: Parakeet
Sex: Female
Sub-Species: Standard Budgie
Health Status: Healthy
Good with Kids: Unknown
Well Socialized: Unknown
Adoption Status: Adoption on 2019-08-16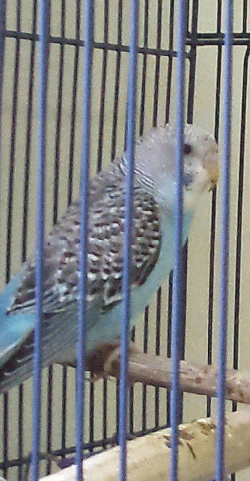 My Sponsors: Sponsor Me!
If you're approved to adopt, click here to email my adoption coordinator.
To learn more about fostering or adopting our birds, please click here.
---
Hi, I`m Izzy the baby budgie. I am less than a year old, still with all my pretty striped head feathers, so probably less than six months old. Boy? Girl? Doesn`t matter, I`m cute! I am a little live wire. I love my GREENS -- parsley, cilantro, leaf lettuce, romaine, baby bok choy...ok, I admit, I`m not so fond of broccoli or kale. I have lots of toys in my house, and I play with and love them all. I climb in my rings, sit on top of my mirror, hang upside down and look at myself. Wouldn`t I be the sweetest addition to YOUR forever flock? Pick me! Pick me!