Mango (bonded with Winnie)
Bird ID: 5951
Species: Lovebird
Sex: Female
Sub-Species: Peach Faced
Health Status: Healthy
Good with Children: Unknown
Well Socialized: Unknown
Currently in Foster Care
Sponsor Me!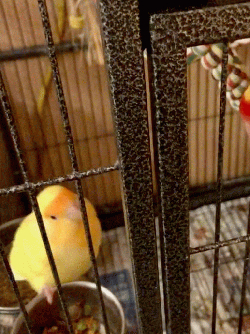 If you're approved to adopt, click here to email my adoption coordinator.
To learn more about fostering or adopting our birds, please click here.
---
I was named Mango. I lived in an outdoor aviary and was not see at first when removing the other birds that were left here after the owner passed away. We have been found to have health issues and are receiving the medical care and good diets we have been needing. I am going to be in quarantine and then will see if I can be friends with my foster mom`s other foster lovie. Otherwise an outdoor aviary may be a better situation for me. Time will tell. 1/16/17 - Update! Mango is doing very well and has made a new friend. She has bonded with Winnie, another foster lovebird and they are BFF`s :) They are inseparable and will need to be adopted together. 11/12/2022- Update- Manggo (and Winnie ) are both back with Mickaboo after being adopted several years ago due to no fault of their own. The adopter was very very upset as these are great little birds. More of an update soon. . .