Winnie (Bonded with Mango)
Bird ID: 5899
Species: Lovebird
Sex: Female
Sub-Species: Peach Faced
Health Status: Healthy
Good with Children: Yes
Well Socialized: Unknown
Currently in Foster Care
Sponsor Me!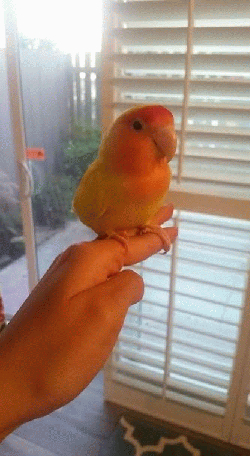 If you're approved to adopt, click here to email my adoption coordinator.
To learn more about fostering or adopting our birds, please click here.
---
Hi, my name is Winnie. I am a tame female lutino lovebird and am just under 1 1/2 years old. My mom had to give me up due to health reasons so I now live with my foster mom who adores me along with everyone else who meets me! Since I am a youngster, I am very active either in or out of my cage. So far I say "pretty bird" but could probably say more if someone works with me. I really like to hang out on my foster moms shoulder and visit with whomever sits near her and I am very helpful if you need to work on the computer as I like to oversee your work by running across the keyboard every now and then. I am also very good at riding on shoulders and helping with the vacuuming. I like to sample your meals and I like older children. Since I am a typical lovebird, I have no fear and I try to visit with the other pets in the house so you really do need to make sure I am supervised. I visited a rabbit and tried to preen her fur (she ran away from me) and I tried to land on the toothless chihuahua that seems to do nothing but sleep and he ran away too. Since I am very friendly with others, I might like to have a lovebird friend of my own because hey, no one should go through life alone, right? 1/16/17 - Update, Winnie now has a lovebird friend, Mango! These 2 are adorable together and are inseparable. Winnie and her new friend Mango will need to be adopted together as it will be heartbreaking for both to be separated. 11/12/2022 - Update, Winnie and Mango have returned to Mickaboo after being adopted several years ago. This is no fault of their own but a mean landlord who broke the adopters heart by having to return them. Mango and Winnie are best buddies and great little birds that need to be adopted together. Will you be their forever home?