Teo
Bird ID: O2016004
Species: Macaw
Sex: Male
Sub-Species: Blue and Gold
Health Status: Healthy
Good with Kids: Unknown
Well Socialized: Unknown
Adoption Status: Foster on 2020-07-05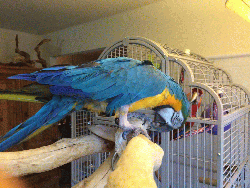 My Sponsors: Sponsor Me!
If you're approved to adopt, click here to email my adoption coordinator.
To learn more about fostering or adopting our birds, please click here.
---
Hello I`m Teo! I`m a sweet boy who likes to make kissing noises and laugh! When I laugh my happy laugh I bob my head up and down and want you to join in! Like to dance? Me too! I love it when you sing or whistle and I`ll show you with a laugh and a happy dance. I`m on a great pellet diet and love some veggies and fruits. I`m a fairly quiet guy who likes to hang out playing with my toys or with you on your lap or the arm of your chair, but I also really love an active environment! Being the super smart guy I am I`ve also shown I can be a great escape artist like Houdini! Please contact my coordinator if you`d like to meet a smart and handsome guy like me!