Ike
Bird ID: 5524
Species: Amazon
Sex: Male
Sub-Species: Blue Fronted
Health Status: Healthy
Good with Children: Unknown
Well Socialized: Yes
Currently in Foster Care
Sponsor Me!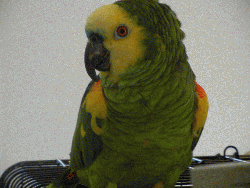 If you're approved to adopt, click here to email my adoption coordinator.
To learn more about fostering or adopting our birds, please click here.
---
Hi Everyone! My name is Ike and I`m an exuberant and sweet blue front amazon. I`m about 30 years old. That`s not quite middle-aged for an amazon. I step up nicely, talk, sing and argue with one of my housemates. I like to watch tv with my special person scratching my head in the evening. Sometimes I use foul language. I am bonded with Charlie, so we have to be adopted together. If you would like to meet me, please contact the amazon coordinator.