Ranger M (aviary bird)
Bird ID: C2011034
Species: Parakeet
Sex: Male
Sub-Species: Standard Budgie
Health Status: Healthy
Good with Kids: Unknown
Well Socialized: Unknown
Adoption Status: Foster on 2012-02-24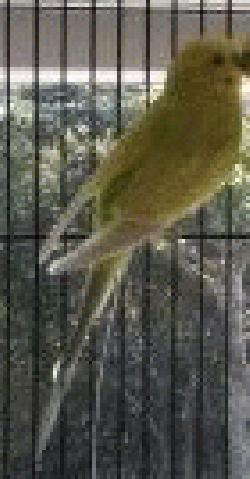 My Sponsors: Sponsor Me!
If you're approved to adopt, click here to email my adoption coordinator.
To learn more about fostering or adopting our birds, please click here.
---
Hi, I`m Ranger. I`m such a bright green and yellow budgie I almost glow in the dark! I am definitely an AVIARY bird. I am not human friendly at all. I am simply part of a flock of budgies. We are all generally healthy but we belong in an aviary. If you have an aviary that`s looking for some budgies, I just might be one of the guys for you!