Mananita
Bird ID: 3970
Species: Amazon
Sex: Unknown
Sub-Species: Double Yellow Head
Health Status: Special Needs
Good with Children: Unknown
Well Socialized: Unknown
Currently in Foster Care
Sponsor Me!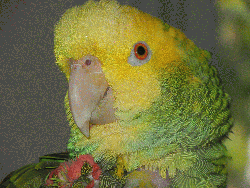 If you're approved to adopt, click here to email my adoption coordinator.
To learn more about fostering or adopting our birds, please click here.
---
My name is Mananita and it is Spanish for Little Morning. I am a bright and sweet bird just like the morning sun. Singing with a human is so much fun. We are singing "la-la-la" in lovely harmony. If I`m fond of you I will greet you with "Hi Boo". I love to whistle and chew on my wood toys. I like it when people speak Spanish to me. A little bird smile appears when someone says "bonita pajaro" to me. My Mickaboo foster moms have worked with the veterinarian to get my skin healed after plucking and biting. The stiff collar came off and I am beautiful. A few weeks later, I couldn`t wrap my toes around my perch. Off I went to the Emergency Room. It was a stroke that affected my feet and my right side. The vets put me on medicine and I`m recovering well. I can put weight on my feet and play with my toys. In a few more weeks, I will know if there is a long term impairment. I will be on medication for the rest of my life. I`m very good about taking it with a piece of bread. Contact the amazon coordinator if you are ready for a sweet and loving companion. adventure!