Juicy
Bird ID: 3214
Species: Amazon
Sex: Unknown
Sub-Species: Red Lored
Health Status: Unknown
Good with Children: Unknown
Well Socialized: Unknown
Currently in Foster Care
Sponsor Me!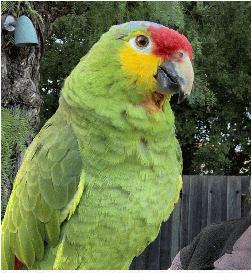 If you're approved to adopt, click here to email my adoption coordinator.
To learn more about fostering or adopting our birds, please click here.
---
What an adventurer I am! Mickaboo came to my rescue when people said there was a wild and crazy guy out in the orange trees. The volunteers came almost every night to persuade me to come out of the cold during the rainest part of the winter. Finally I decided I was tired of the rain and living off oranges. I let the volunteers put me in a nice warm cage with easy pickins for dinner. Ah, the good life. If you would like an adventurer like me in your life, contact Mickaboo and let me know.