Cappi
Bird ID: 3165
Species: Amazon
Sex: Unknown
Sub-Species: Yellow Nape
Health Status: Special Needs
Good with Children: Unknown
Well Socialized: Yes
Currently in Foster Care
Sponsor Me!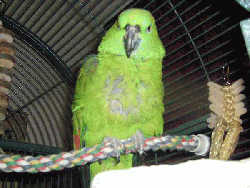 If you're approved to adopt, click here to email my adoption coordinator.
To learn more about fostering or adopting our birds, please click here.
---
If you want a bird that speaks very good English I am the bird for you. I do not like spending time away from humans and say Hello and Hi a lot when I want attention. My foster Dad calls me his Walmart greeter bird. I also say a lot of other things but mostly when I want to. I will say "Polly want a cracker" if you are eating something that looks good or offer me a treat. I am a special needs bird and need aspiration for air saculitis about every two weeks by a vet or an experienced bird owner. This is how I got one of my nicknames Bubble Boy. The condition is chronic but I do not mind it as long as you take care of it regularly. If I bond with you I will make a sweet and very loyal companion for many years. ________________________ If you want a bird to talk with you, you might have your hands full with me. I understand Spanish and speak English. I complain if you don`t talk with me as I get lonely and like to be around people. When I`m having a good day, I say "Cappi is a good, little bird!" When I have a bad day, I say "Cappi no good!". My family gave me to Mickaboo because I`ve had a chronic health problem for 8 years and it is very expensive to have a bird that needs to go to a vet. Mickaboo took me to a vet right away and I am getting treated for an infection. My New Year`s resolution for 2010 is getting my health to be the best it can very soon.