Volunteer of the Year: Valerie Thomas
Article from "The Mickaboo Bird Rescue Companion"
Published January, 2023
By Valerie Thomas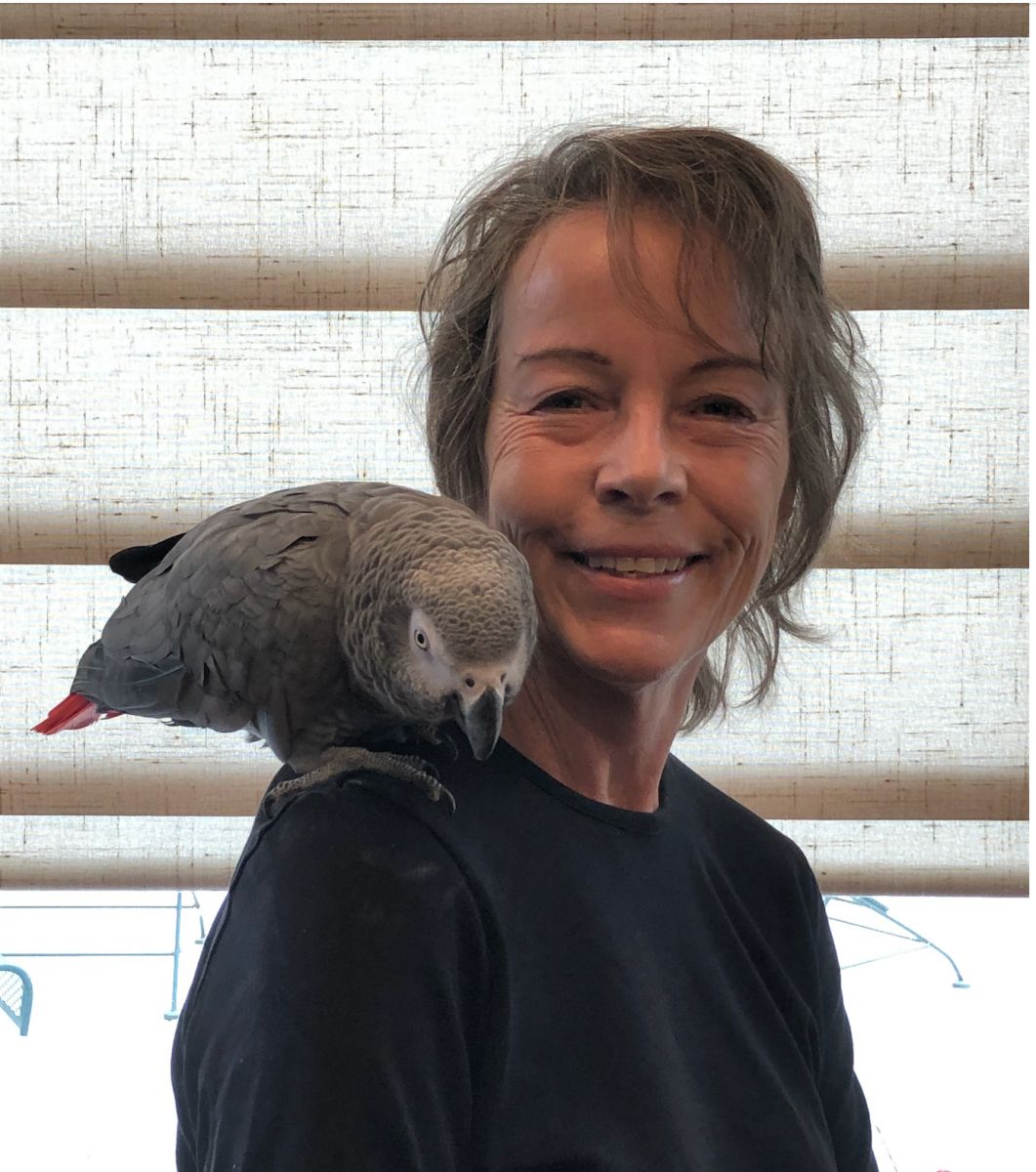 [ Editor's Note: Valerie was selected as Mickaboo's Volunteer of the Year during Mickaboo's 25th Anniversary Holiday Event. She's recently worked on several rescues and other events. Let's learn more about Valerie in her own words below, lightly edited for length, and her involvement with Mickaboo. ]
My twin sister, Verona, and I had an affinity for animals large and small since we were young. One of my earliest memories was of "Polly" an Amazon parrot who was wild-caught and spoke Spanish. She was our mother's bird as a schoolgirl, but she stayed with our grandparents when our parents married. We were told not to put our fingers in the cage, but we tested each other's courage and sometimes we got nipped.
Verona died tragically when we were twenty-five and I tail-spinned to San Francisco a few years later with my young daughter. I was writing my thesis on adoption when I seriously began to wonder if I had other siblings out there. Using "old-school" ancestry research, I found our five maternal half-sisters. Sadly, our birth mother was deceased by that time. Then in 2017, using DNA, I found my paternal side – another deceased parent, five more sisters, and the baby brother I had longed for as a child!  I've helped about twenty other adoptees find their birth families as well as some of my own biological relatives who wondered how we were related when their DNA matched mine.
As a licensed clinical social worker, I provided case management and counseling services. I began as a medical social worker helping people with HIV and AIDS at a time when there was little hope for long-term survival. During my last work years, I worked with others to open hospitals in Vallejo and Vacaville. By helping to establish an animal-assisted therapy program at a neuro-rehabilitation center, I built a bridge to my retirement. Al, our Cavalier King Charles Spaniel, and I volunteered for eight years. We loved his job!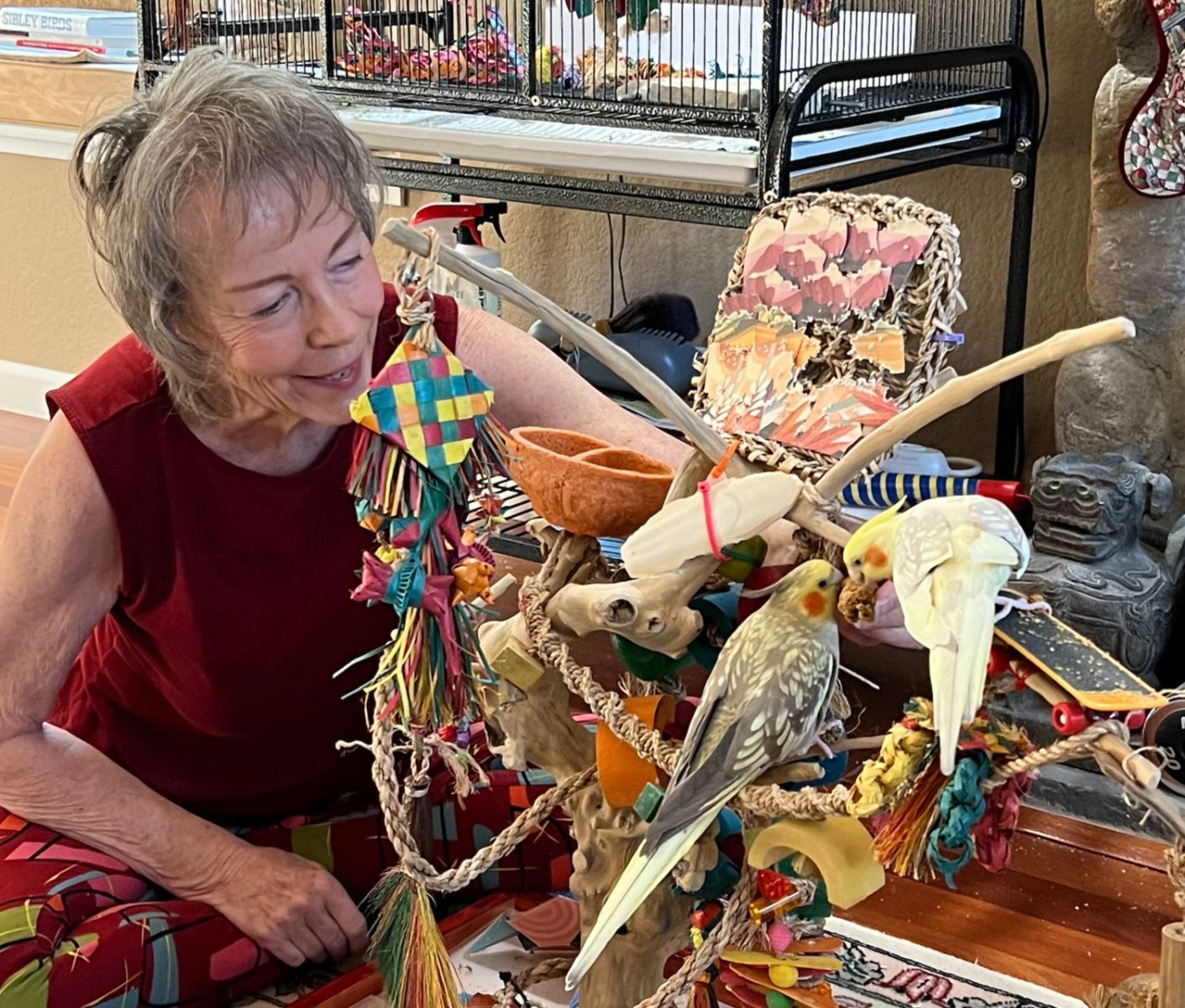 Volunteering for Mickaboo for the past many years has brought me joy and purpose. We've adopted two female cockatiels, Peek A Boo and Puffin Too! Peeks was surrendered by her family and Puffin had a collision with a car. A Mickaboo volunteer picked Puffin up from the animal shelter and took her to an avian vet to treat her broken shoulder. The two birds became very close, and now they are a bonded pair. We've also adopted Jari, an African grey, who was abandoned in a carrier on a busy street. Like Puffin, a kind person took him to the local animal shelter, and through Mickaboo, he's become our sweet boy!
I often reflect on a mixed-flock surrender I participated in this year and the amazing Mickaboo teamwork it involved to find homes for the seven birds. The family had a mixed species 30+ -year-old bonded pair (blue-fronted amazon and sulphur-crested cockatoo), a bonded pair of cockatiels, a single cockatiel, a green cheek conure, and a pigeon ironically named Polly. Their mom was receiving in-home hospice services and she could no longer care for them. The love she clearly had for her flock was both heartbreaking and heartening.
Our Mickaboo coordinators on several species teams achieved our hopes and goals beyond measure. All the parrots were adopted! The amazon and cockatoo are happily living out their golden years together. The bonded pair of cockatiels found a lovely home down the coast where they can watch a friendly four-eyed fish wiggle in its aquarium. The conure had a vet visit for his overgrown beak for fear he might have liver disease. He was in good health though and, after a good beak trim, he was very handsome and ready for adoption. The single cockatiel found her forever home with a little sister cockatiel and several budgies. Polly, we learned, is a band-tailed pigeon, California's only native pigeon and a relative of the extinct passenger pigeon. Her outcome was more precarious because the family had rescued her when she was injured, and she could not survive in the wild. By California law, she would have to be euthanized or placed with a person who held a restricted species permit. Palomacy, (formerly MickaCoo) found that person for us! Polly was the last bird to leave her home. I picked her up two days after her mom had passed. I'll always remember the peace and presence I felt as Polly and I drove to her new home.
I don't remember how I first heard about Mickaboo but, when synchronicity led me here, what I learned would knock the red socks off a Nanday conure! Mickaboo is basically a post office box with no physical plant to maintain. We all volunteer (including our leaders in non-paid executive positions) from our own abodes, garages, and vehicles. Everything we do reflects our shared values and goals.
I've found my niche here. Helping others find their way has been my life-long mission. Assisting families in transition and our birds, in the myriad situations we encounter them, brings me deep satisfaction. I'm grateful for the real sense of community I feel with our Mickaboo volunteers. And I really respect and appreciate our applicants who patiently allow us to evaluate and vet them to foster and adopt our parrots.
~ ~ ~ ~ ~ ~ ~
Editor's Note: Interested in volunteering for Mickaboo?  Complete a volunteer application here or simply email volunteer@mickaboo.org. Most (but not all!) roles require a prospective volunteer to take one of our free bird care classes. 
Back to newsletter's front page.
Copyright © 2023 Mickaboo Companion Bird Rescue
All Rights Reserved