Volunteer of the Year: Robin Pugh
Article from "The Mickaboo Bird Rescue Companion"
Published January, 2022
By The Editor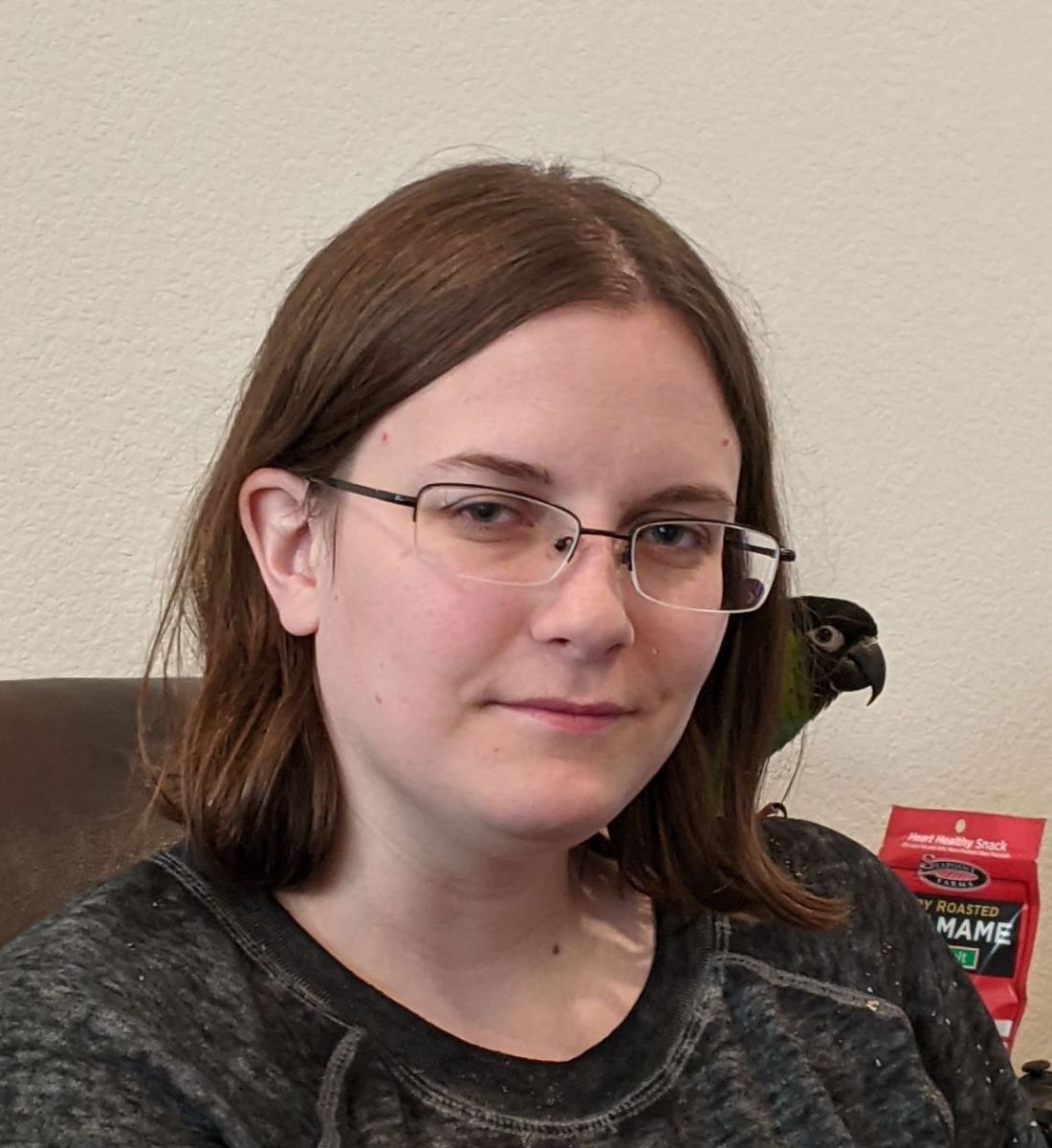 Robin Pugh was just named Mickaboo's 2021 "Volunteer of the Year". She coordinates our Conure and Eclectus teams, leads our Home Visit volunteer team, takes turns as host for our Virtual Adoption Fairs, co-managed the recent implementation of e-sign processes - and more.  We sat down to chat with Robin about her Mickaboo experiences.
How did you find out about Mickaboo?
I knew about Mickaboo years before I reached out. I used to live in San Jose, and Andy's Pet Shop always had advertisements for Mickaboo. The fact that the classes were held there drew me in, because I'd grown up with birds and had known for years I wanted birds once I'd settled into a home I'd be staying in long term.
Despite that, I never ended up going to those classes. It wasn't until early 2020 that I decided I was in a stable enough place to open my home to a bird.
What do you do for Mickaboo? What do you enjoy most about it?
I do double duty, primarily running the Home Visit part of the application process and coordinating for the Conure team. Home visits are something I ended up doing almost accidentally - it's a big, complicated part of the application process, and it requires a lot of organizing to make sure we have volunteers able to do visits all over Northern California. I enjoy the organization side of things, so for me it was an obvious fit to help coordinate volunteers and collect completed reports.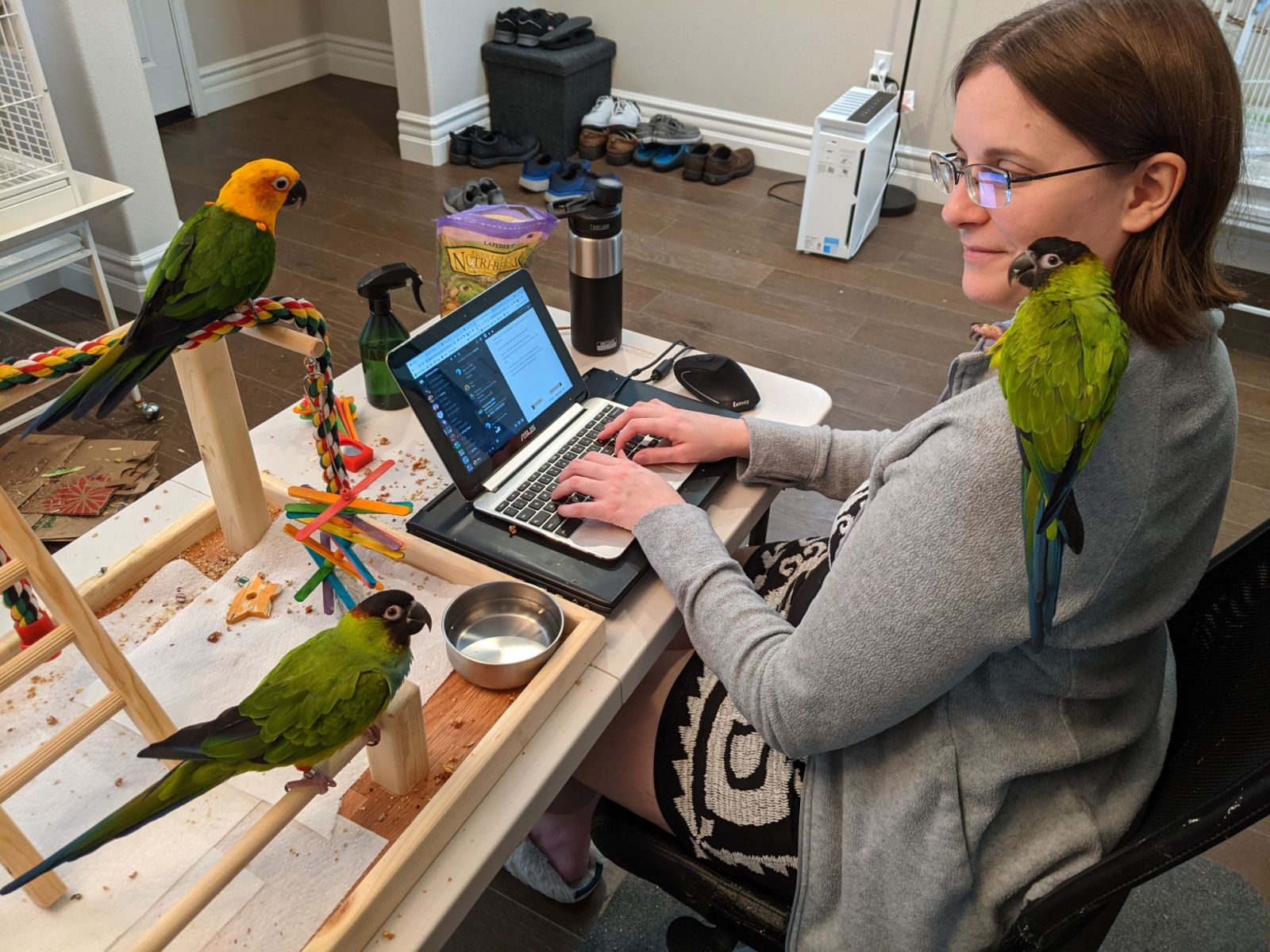 The Conure team, though, is where I find real satisfaction. I have four conures of my own, three of which were adopted from Mickaboo (one of which was a foster fail), and I really love how big their personalities are. It can be frustrating seeing birds come in from poor situations, but it's immensely satisfying seeing those same birds get adopted into loving homes that shower them in attention.
I just love getting emails from people who've adopted telling us how the birds are doing and sharing pictures. There's nothing like seeing a conure digging into a particularly messy piece of fruit… and knowing I don't have to be the one to clean it up!
What is the most memorable experience you've had with Mickaboo?
It actually wasn't something that was part of either a home visit or something relating to conures. Someone from another species team reached out to me because they had a surrenderer who lived near me who wasn't able to drive, and asked if I could pick up the bird, hold him overnight, and then pass him off to a foster.
The bird's situation was dire. He was over twenty years old and had never been taken out of the cage, being fed only seeds and with no toys to speak of. I was convinced the bird was going to die just from the stress of being removed (for the first time in literal years!) from his cage. He seemed so small and frightened, and it broke my heart just to see him that way.
The foster picked him up the following morning, and three months later adopted the little guy. That bird went from life alone in an empty cage to spending his days out on a shaded porch while his new owner sat with him, enjoying the sunshine. He gets a great diet, gets to interact with other birds, and recently got a clean bill of health from an avian vet.
Stories like that are why I do what I do - because Mickaboo made a huge improvement in that bird's life, and now he's getting to live out a lovely retirement with his new owner.
What would you say to others who are considering volunteering with Mickaboo?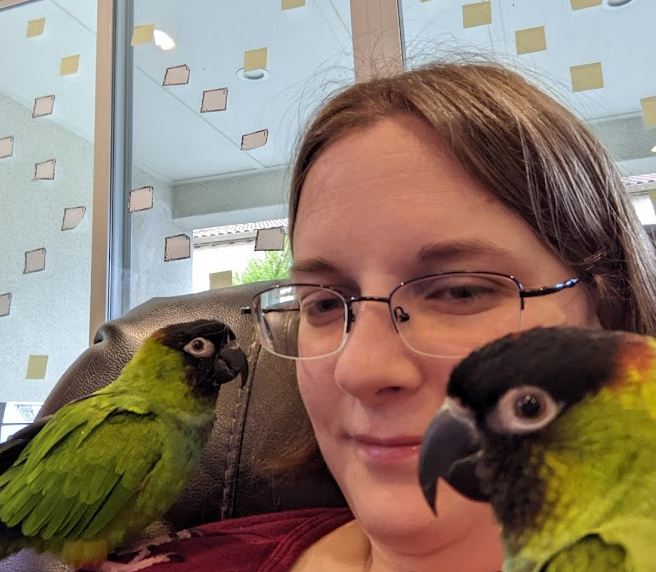 It's worth it. It can be stressful at times (anything that means dealing with animals that are having to be rehomed is going to be stressful at least some of the time), but seeing the results is beyond satisfying. There are always more birds that need our help, and always more work to be done. We always need people to help transport, to foster, to do phone screens and home visits. You don't need to be a bird expert - what matters is that you've got some time and are willing to help!
And best of all, you get to know how much the birds appreciate it when you see them in their forever homes.
~~~
Editor's Note: Interested in volunteering for Mickaboo?  Find and complete a volunteer application here or simply email volunteer@mickaboo.org. Most (but not all!) roles require a prospective volunteer to take one of our free bird care classes.