Tributes2
Paris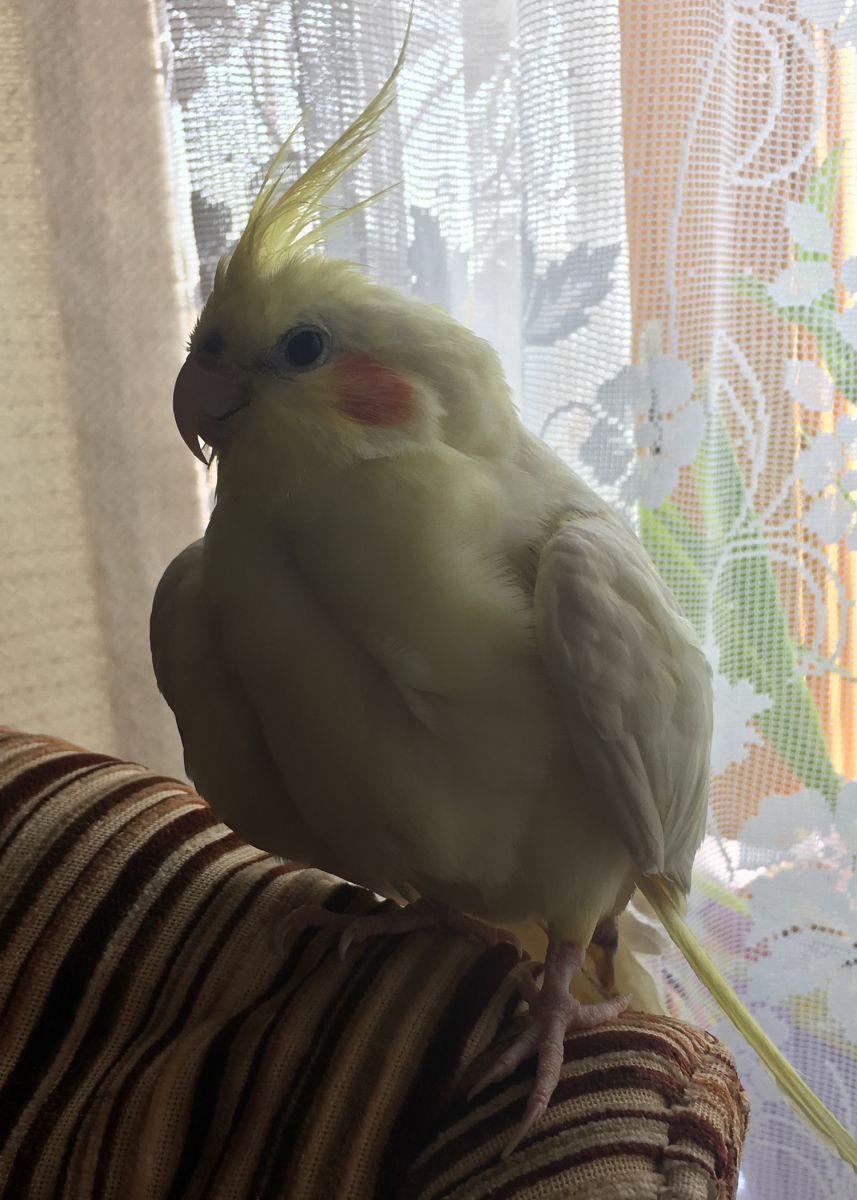 Paris came into our lives from a call searching for a lost cockatiel. Paris was found in someone's yard and they didn't want her. I ended up being this sweet girl Home. She loved to cuddle, but had a sassy personality too. The name I picked for her was perfect. We were able to spoil her for 13 years until one day we learn she had a cancerous tumor on her preen gland. Without debating on what to do, we scheduled her surgery with the amazing Dr. Gold. She survived with relief, so we brought her home. I was looking forward to her healing and learning her new lifestyle. The downward spiral began when she developed a breathing problem which was most likely pneumonia. We took her to a different vet who was open 24 hours for treatment. The treatment was not helping her.
Paris passed on April 25 2018. We love you forever pretty girl.
---
Sydney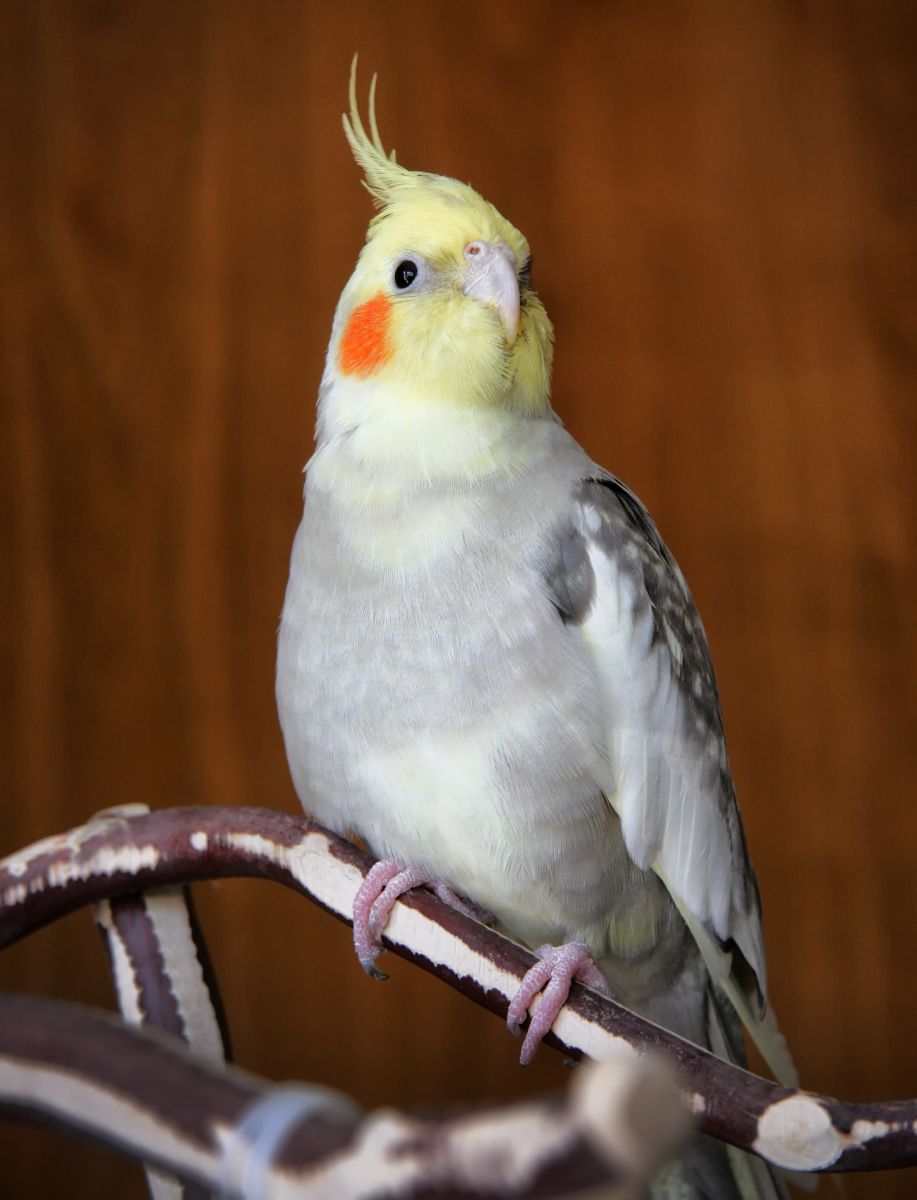 Sixteen years you graced our lives. On your first vet visit just days after you became a part of our family, you stepped right out of your little travel cage and right up onto the doctors arm. The doctor said, "well he's very confidant!" And you were, always demanding of scratches and shoulder time. You learned to raise your little foot and hold it there until someone would come scratch your head. You'd roll your head around so that your human could get all the good spots. You'd tap your beak against the small metal cup on your "kitchen perch" like ringing a bell when you wanted your sprouts. If we slept in to long on a weekend morning you'd being whistling. First we'd repeat back and forth your vocabulary of whistles, each taking a turn. But after a bit you'd decide that was time to get up, and just become very demanding with your call.
Sixteen years is a long time. Your memory is forever etched into the lives of everyone you touched. You have a little memorial in our garden now. Every time I pass by both a smile and a tear cross my face.
Such a small little creature a Cockatiel is, how do they fit that much love and personality in?
"Don't cry because it's over, smile because it happened." -- Dr. Seuss
---
Baby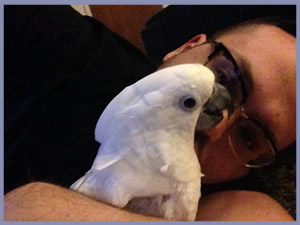 My beautiful umbrella, Baby, passed on December 10, 2015. She gave me 10 of the loudest, craziest but most loving years. Bounced around prior, I promised she had found a forever home, and she did-she just didn't stay as long as I would have loved. Baby, you're forever in my heart. The days have been difficult, and nothing is the same. Until we are reunited, fly high my love. Out of sight but never far from my heart. Daddy will never stop loving you.
---
Smitty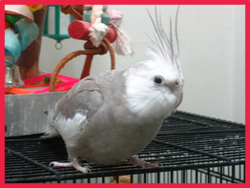 It is with deep, deep sadness that we lost our little guy yesterday, our white-faced Cockatiel.  He did a good job, trying to fool us, to make us believe he wasn't so sick.  But it wasn't good enough.  At first he had a cold and in short, short time, it developed into severe pneumonia.  We are totally heartbroken.  He can never be replaced.  He was a blessing we adopted from Mickaboo in October 2007.  We have many, many fond memories of him.  We love him like family and gave him the best life we could give a pet.  His loss has left us with a tremendous void which is unbearable.  It is so amazing how such a tiny little creature has so much personality, can penetrate your heart, and can give you such unconditional love. 
We rescued Smitty after he was in several foster homes.  The one he lived in before ours was so lonely.  His owners were out all day and much of the evenings, leaving Smitty alone in a small bedroom.
How devastating this must have been for him.  When we first visited him, he stepped up for us!  Amazing, I thought.  After we adopted him, he quickly grew on us and we fell in love with him.  We let him ride on our shoulders and hang out with us, no matter what we did.  I will miss him clucking when I said "Bye, bye" on my way to work.  I will miss him calling out as he heard my car pull up to our house.  I will miss him running all over the couch and loveseat, just exploring everything.  I trained him to fly to me when it was treat time.  I will miss his singing and garbling when he was winding down in the evening.  He was free to fly whenever he wanted when we were home.  Now I hope he is flying with my last two Cockatiels and with the angels in heaven.
My dear little Smitty, Mommy and Daddy love you sweetie and miss you more than words could ever say.  We hope to see you in heaven. 
Ann & Bob Cardwell
---
Free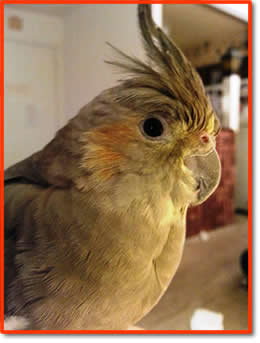 ~Dearest Free,
You were an exquisite and delightful Cockatiel. You were always a happy, active, and very loving good natured bird. I gladly rescued You 2 years earlier from a miserable existence. You had to breathe smoke filled air and never saw sunshine. Unloved and unwanted. You just sat there hopeless and heartbroken.That all changed Big Time when you came home with me! You were showered with love and received the dignity you always did deserve. Your days were now filled with sunshine and fresh air! The door on your nice big cage was never closed. You were free to fly wherever you wanted. You loved the morning hours sitting in the sun. Chirping away for hours at the wild birds who came to feed on the deck. You became so full of life and vitality, it was so wonderful to see You happy! I always marveled at your beauty especially when the sun shined on You! So many glorious colors to behold! You were as lovely on the outside as you were on the inside! Truly a wonderful friend and companion that I shall always miss greatly. You courageously and bravely battled illness in the last 6 months of life. A cancerous tumor took your precious little life on July 8th, 2014. You died sitting on my finger as we were face to face looking into each other's eyes. I'll never forget your last 30 seconds of life. I had just given You a sweet kiss and told You in a gentle voice that I loved You. There was silence as we looked at each other then I felt your little feet lose their grip on my finger.  That dear heart of gold within you no longer beat. Rest In Peace my darling little Angel.
Always,
Craig DeLeo
---
Buddy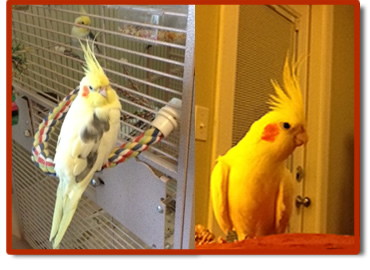 Left in a brown paper bag outside a pet store in San Francisco, the day my first tiel, Umberto, flew away, brought Buddy and I together. As Gary said when he put Buddy into a little box for me to take home, you two were supposed to be together. He  a special and gentle soulmate, always by my side. In the mornings, he would come and sit on the arm of the recliner and share breakfast.  In the evenings, he would sit under my chin.  He had an uncanny knack of knowing when I needed to stop working on the computer, climbing up either my leg or the computer wire to sit on my hand or push away my headset. I have a disability from too much computer work, so he truly always watched out for his mom.  
He touched so many people in his 14 years.  He may have been the littlest of my tiels, but he had a very large personality and the most magnificent crest one has ever seen.  It drew comments from everyone he met. He died of heart disease - an enlarged heart I was told.  Well he did have a huge heart, full of love for me and his tiel brothers.  From San to the East coast where we live now, and fans across the Atlantic, many tears have been shed from those who met him and enjoyed his big personality. His unexpected departure while I was away has left me heartbroken. His companions are finishing off his solo wicker basket project, as their tribute to him.  No baseboard was left untouched by Buddy, no puréed vegetable soup left untasted, but he did, thankfully, recognize after he almost blew up the TV that his electrical skills were not as good as his carpentry work.  He loved music, particularly Blurred Lines, Maroon 5, the Band of the Grenadier Guards or watching the febrese, or orange juice ads on TV.  He also loved English TV birds and watching other tiels on the iPad.  
He came through many health scares so it's so very hard to believe this time he has really gone.  I am truly blessed to have had such a wonderful life with him, and to know that when his time came it was quick and peaceful as it could be.  He deserved that. I believe he chose to die while I was away, once again thinking it would be better for me if I was not here.  I had a wonderful 14 years with Buddy, so much joy, love, happiness and laughter, and a few nipped ankles from darting out of my closet. 
Thank you Buddy.  I miss you so much. You are forever in my heart.
---
Gilligan (5/06-1/24/14)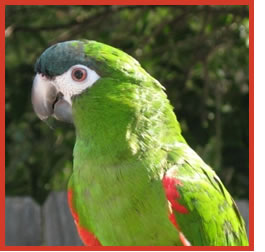 You had me from the very start!  Even though you could barely perch, and just weaned, your personality was huge.  I was always amazed at how smart you were, how funny you were, and how creative you were.  You were such a good boy, even when you were being just a little "too big for your britches!"  I know you wanted to think you were running the show, and that was okay!
Though you were only with us for almost 8 years, they were very special years!  Your wit and charm never failed you, and your antics and laughter lit up my world.  Most of all, Gilligan, you were a Little Guy who thought he was a Big Guy, who was loved more than any guy! 
The silence isn't as deafening as it was when you left, but the hole in my heart will always be there.  What I wouldn't do for more time with you...but so glad for the time we had.  I miss you so much, my little buddy, and you will always be in my heart!!  I hope your beautiful spirit is flying free and smiling.
"Have a nice day" my sweet Gilligan, your mommy will always love you!!!
---
Muffin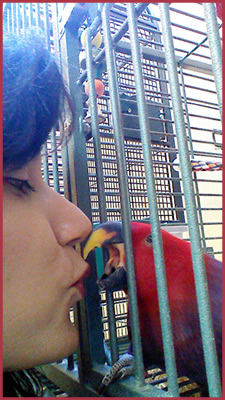 Muffin, you were my best friend.  I loved you so much.  You were so smart.  I'd do anything to spend my whole life with you.  My mom said you were her granddaughter (she has no grandchildren).  PDD took you away at one year old.  You were supposed to live 50+.  I named you after the term Jay Leno used to describe when kittens knead their mom when breastfeeding.  He called it making muffins.  I'm going to fight in your name for parrot awareness and why pet stores should not sell you.
---
Stella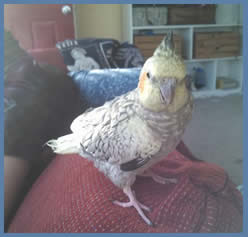 She loved rice, shiny things, eating off of people's plates, throwing things out of a bucket, and being scratched behind the ears. She would call for you when you came home and eat crackers in a perfect concentric circle. When she was done with you, she'd hop off your lap and head for home. She was only a lass. Fly free, Ms. Stella. May the benevolent caretakers of the Elysium Fields over the Rainbow Bridge forever wear sparkly jewelry and keep a constant supply of Chinese finger traps and fishy crackers to strike your fancy as you flutter across the table and soar through the trees.
---
Mate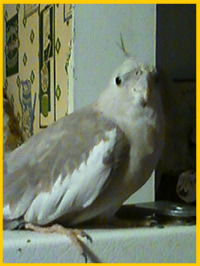 July 11, 2001 - June 23, 2013
Mate,
Even though You're gone, You will always be the Love of my life.   You came home with me when you were 2 months old and We spent 12 happy years together.   When we met it was Love at first sight and it grew from that moment on.  You were the Sweetest, most Loving creature I've ever known.   On June 23 You had to be put to sleep because of an incurable disease.  It was the very saddest day of both of our lives.   That day, a big part of me died along with You.   Mate, You were the best friend anyone could ever ask for.   It was a Privilege and an Honor that You shared your life and love with me.   I will think about and miss you every day for the rest of my life Sweetheart.   You filled my days with Joy and Sunshine.   Your smiling, happy little face melted my heart always.   Without You Mate, my heart is as broken as a heart can be.   RIP my little Darling, You were the Best Friend I ever had. 
Mate's tribute video: https://www.youtube.com/watch?v=26o0xaK0oRc
Craig DeLeo
---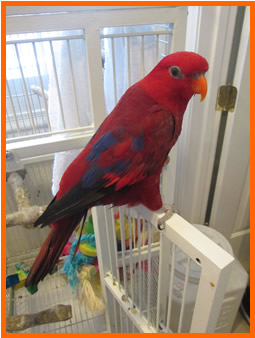 Lori
To my friend Lori,
Around 7pm on Sunday, Oct. 27, 2013, you passed out of our lives, but never out of our hearts.  As I held you in my hands, you slipped from this world to a world that is infinitely more beautiful, splendid and magical than anyone can fathom. 

In this world, there will be only radiant sunshine on your cheeks and a soft warm breeze caressing against your delicate feathers.  It will never rain here unless you want to take a shower, the rain will be comforting and light and when you finish, the sun will shine once again to dry you.  All around you will be birds of all different kinds, the most glorious and beautiful your eyes will ever see.   They will flutter around you and welcome you to their family and you will have an eternal family and a companion that will be with you for all time.  They will love you in every way and you will love them just the same.  Each day, you and all the birds will dine on the most delectable nectar, the sweetest you have ever tasted.   It will make you sing and flap your wings in joy.   Along with the nectar, you will have an endless array of tantalizing fruits at your behest.  The fruit juice is liquid ambrosia and will delight your tongue as the flavors dances upon it.  There will be rainbows and butterflies for you to follow and they will lead you and your mate on spectacular voyages.  Then when the time is right, you will have chicks of your own that will be raised in love and they will adore you and your mate with every feather on its little body.  Your family will grow in peace, abundance and eternal sunshine.  You will have grand adventures together and you will laugh so hard you will fall on your back and cry.  Each evening, as the sun sets and dusk settles, you will be serenaded to sleep by the songs rhythms of the cicadas.  Countless stars will twinkle and wink at you and watch over you and each morning, when the sun once again rises and fills the world with light and warmth, you will feel our love embrace you and wash over you.  For there is no place you can go, nothing you can do that our love cannot find you and reach you.

You were with me for 19 years, years that were a river that flowed by and passed without you knowing how and when.  You were my present for my 19 birthday and you were with me when I graduated from college.  When we moved away from our small town home to the big city of Boston to start our lives.  You watched us when we started our careers and when we struggled through financial instability.  You traveled with us as we crossed the country again to move to California and you watched our family grow from the three of us to include Walnut, Snow, Haven, Pascal, Autumn, Rain and finally Milo.  You were there when Cuong and I became engaged, when we bought our first home together and to when we got married.  You saw us start our own business and missed us when we traveled the world.  You watched with intelligent eyes as I grew from a teenager to become a woman. You watch the trials and tribulations of our lives and watched as things fluxed and change and all the while, you were always there with an assuring whistle when we called your name.  You mimicked us when we laughed and silently watched when we cried. 

You climbed onto my shoulder and rubbed your face against mine.  You hopped and dance with abandon when you heard a song you liked.  You bobbed your head up and down when you wanted attention and would rub your head against my finger when I provided it.  You were always an escape artist and you were so wildly intelligent.  You would spend hours and days unraveling a new toy and untying every knot that toy had.  You would run around and climbed all over things because you did not know you could fly.  No one in the house could fly, so therefore, you didn't think you could fly either.  You mimicked with perfect precision the fire alarm sound and made Cuong and I look all over the house for the alarm.  We had such a good laugh when we found out it was you.  You were always there when I wanted a kiss or a caress and you were better to us than we were to you.  In that, we wanted to apologize to you all the wrongs we did.  For all our missteps and mistakes.  For all the times when you were a better family member to us than we were to you.  Forgive us for our selfishness that would put our needs before yours.  Forgive us for our inconsistencies and for our callousness.  Forgive us for any time we recklessly took your devotion without offering you the same or what you needed or wanted.  But despite our shortcoming and failures, please know that you were always loved.

As you fly free with joy, take with you our love, our wish for your eternal happiness and may the spirit of my hand protect you and shield you from all and may only joyous rapture be what you feel and experience.  Fly free and away to your beautiful destiny and to a world where although we cannot follow, our love will always be your tail wind and your updraft.  For there is no place you can go that our love for you cannot follow. 
Please do not worry about us, we were blessed to have you in our lives for the time we did.  You've brought love, joy and laugher to us and it is time you share that with the universe.  Please go on your journey with no hesitation or doubt.  Soar, soar, soar and do not look back for there is no place you can go that our love for you cannot follow.

Start your life anew in the paradise you now reside and look ahead to the endless happy possibility your new life will bring.  Find your mate that will love you with everything they have to give and start a family.  Move forward in your life and do not look back.  Know that when the dew forms on the leaves, that is us giving you a kiss.  When the breeze brings you a delicate scent of blooming flowers, that is us giving you a hug.  When a gentle updraft soothes your tired wings, that is us giving you a caress.  For there is no place you can go that our love for you cannot follow.
Then when the evening is late and as you are about to fall asleep for the night, please turn one thought towards us so that we may see you in our dreams.  Please bring your new family so that we may send our love to them as well.  Please bring them so we may share in your happiness and the beauty of your life.  For just as there is no place you can go that our love cannot follow, there is nowhere we can go that we will not love you, think of you and be surrounded by our memories of you.
Farewell my beloved bird, my beloved friend.  Until we can be with you again in the future, our love for you will last until the end of time…and back again.

With humility and all our love…
TuAnh, Cuong, Snow, Haven, Pascal, Autumn, Rain and Milo
---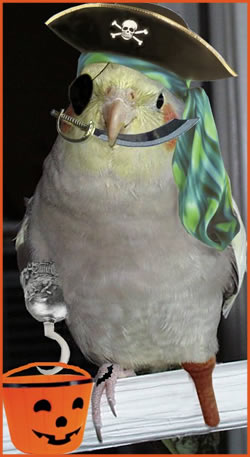 Bug
She was adopted with the name Butterfly but her name was changed to Bug--she's as busy as a bug.
Here she is all decked out in her Halloween costume for 2013.  The base photo was taken about 5 years ago.  She was posing perfectly for me to photoshop a Halloween costume onto her.  She sports a bat tattoo on her right foot.
Bug is a very healthy and happy bird whom I love very, very much. 
---
Squirt
Squirt, you were truly a friend. You were so special and touched the hearts of everyo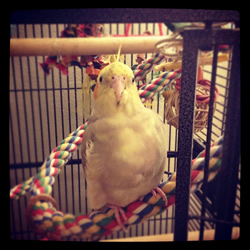 ne who met you. You were so full of love and life, and all you asked for was love in return. I will miss the many times you'd hop onto my leg and nudge my hand to pet you. I will miss you flying towards me, intrigued with whatever I was eating. I will miss the little disgruntled squawks you'd make when I'm not petting you just right. You'd nibble at my finger when you're upset, but you'd never hurt me or anyone. I will miss the wonderful look of peace and contentment on your face when I did pet you just right. You were such an inquisitive bird, the smartest little thing ever. I'll never forget how you figured out how to escape from your cage and flew onto my shoulder, not thinking you'd done anything wrong. I loved how you'd come flying at the sound of a crinkling bag, eager to get a bite of a treat. You've battled health issues and won every time, you handled surgery like a pro, you were such a fighter. I was always so proud of you.
You were too full of love and life to go so quickly. Six years ago, you came into my life and opened up my heart. I didn't realize you had taken up such a huge part of it until you left. I'm sorry your time came far too soon, you had so much more love to give. We will miss you every day, Squirt. My life is better having had you in it.
Squirt - Adopted March 2008, said goodbye October 2013
---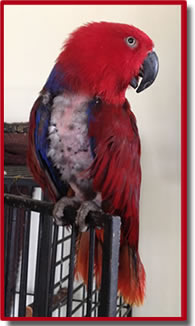 Grace
? - June 5, 2013
  
My Dear Rescued Grace,
"The soul takes flight to the world that is invisible
but there arriving she is sure of bliss
and forever dwells in paradise."   -  Plato
 
Love, Kathleen