Featured Volunteer: Peggy Hartlein
Article from "The Mickaboo Bird Rescue Companion"
Published October, 2022
By The Editor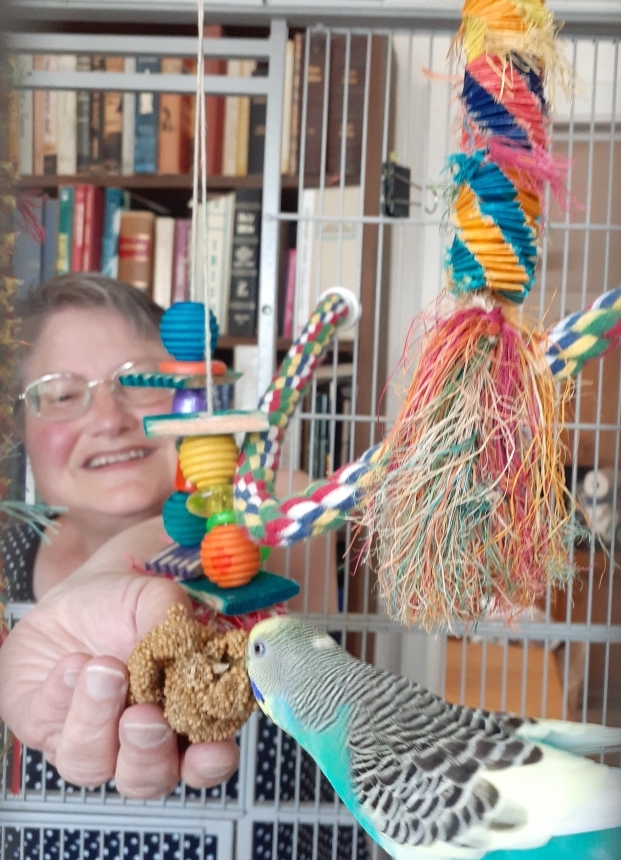 Peggy Hartlein has been volunteering with Mickaboo for years in a variety of roles. Let's hear from her about her experience. 
How did you find out about Mickaboo?
I had adopted several budgies from Peninsula Humane Society ("PHS") beginning around 2008. The PHS newsletter listed a free bird care class by Mickaboo. I signed up for the class. Several years later when I had a single budgie, I looked into fostering with Mickaboo. I retook the Basic Bird Care Class in 2017 and went through the process to become a Mickaboo foster. It started with Mickaboo providing companionship for my lone budgie. Little did Trixie know what he was getting me into.
What do you do for Mickaboo? 
Primarily, I am a budgie foster parent. I started helping with Mickaboo's Spring and Winter auctions  several years ago. I also have participated at  Mickaboo outreach events such as the Solano Stroll, the Berkeley Bark and Meow, and Animals on Broadway, to name a few. I have also participated in several Virtual Adoption Fairs.
What do you enjoy most about volunteering for Mickaboo?
I love budgies! – they are a big personality in a little body. They always seem happy, have an opinion on everything, and most of all, always make me smile. I enjoy being able to offer these little guys a safe place to land when needed. They fill my house with 'joyful noise.'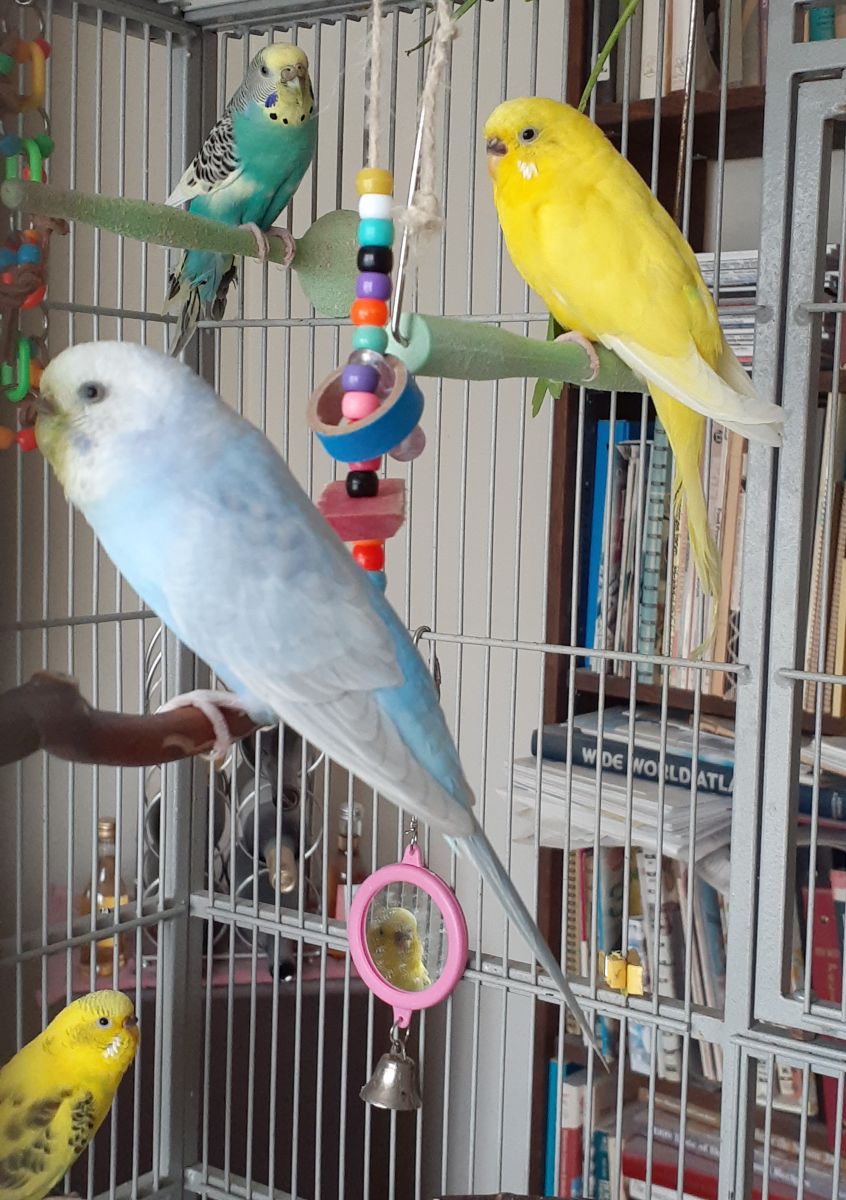 What is the most memorable experience you've had with Mickaboo?
I have had several memorable experiences with Mickaboo. Mickaboo had done a large aviary rescue. My quarantine room was available so I offered to take some budgies. I was going to meet Amy, one of our budgie coordinators, at the vet to pick up 3 - 4 budgies. So, off we went with my little travel cages. About 15  minutes into our drive, Amy calls to say "Instead of you taking these birds that are safe at my house, why don't you just pick up the birds that are at the vet. They are ready to go, and if you pick them up, you will be saving Mickaboo boarding fees." We arrive at the vet, and my little cages…. Well, they just weren't going to do the job. We had to put the back seat down in the Forester to fit the two cages borrowed from the vet clinic! I went expecting to pick up 3, maybe 4 birds, and ended up with 9!
And more recently…  I went to cover a cage for the night and found a budgie on the bottom of it. Not good! This was about 10:30 pm. I reached out for help, and had two Mickaboo volunteers provide assistance as to what supportive care I could provide until morning when I could get to a vet.
What would you say to others who are considering volunteering with Mickaboo?
Do it! Volunteer! There are lots of ways to help Mickaboo help the birds. You can choose to foster long-term or on an emergency short term basis. If you like to drive, there are always birds that need to go to/from the vet or between foster and adoptive homes. You can help at community outreach events. You can help with fundraising such as with our auctions.
Being an all-volunteer organization, Mickaboo relies on its volunteers for everything. If you love birds, from finches to macaws, any assistance you can provide helps the 450+ birds in our care. Consider joining us. It is rewarding for us, but more importantly, it can be life-saving for our feathered friends.
Back to newsletter's front page.
Copyright © 2022 Mickaboo Companion Bird Rescue
All Rights Reserved