Featured Volunteer: Kate Mielke
Article from "The Mickaboo Bird Rescue Companion"
Published July, 2022
By The Editor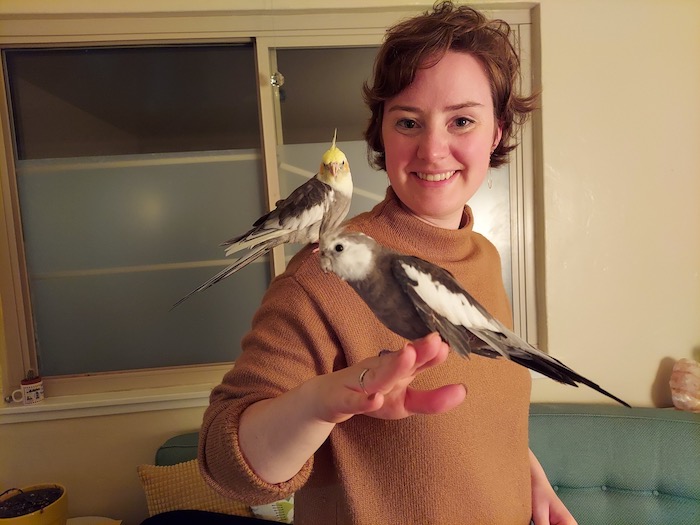 Kate Mielke is a recent volunteer who has taken on multiple roles during the pandemic.  Let's meet her, her many birds, and her volunteer experience.
How did you find out about Mickaboo?
I first heard about Mickaboo while volunteering at the Humane Society of Silicon Valley as a dog socializer. I wasn't ready to commit to adopting any animal (still am not), but felt lonely at home without animal companionship. My apartment did not allow dogs and cats, so birds seemed like a great option. I am now thankful for the no dog and cat rule, because without it I would never have been introduced to birds. As someone who started off with no bird experience, I appreciate the bird class and support that Mickaboo offers to foster homes.
What do you do for Mickaboo?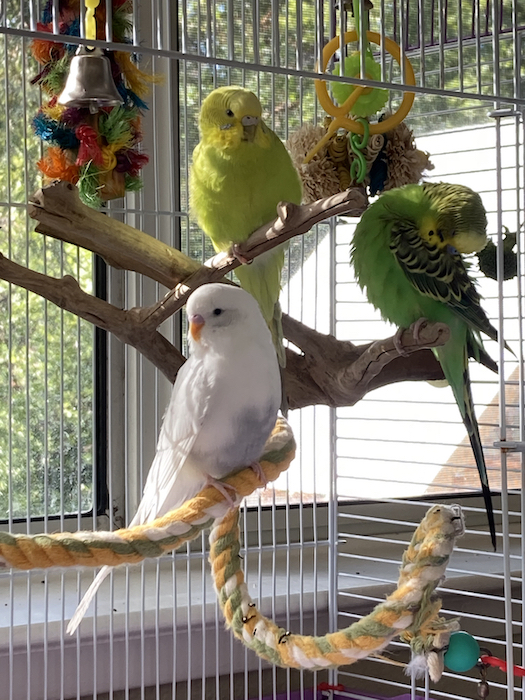 I have been fostering small birds, mainly budgies and cockatiels, for Mickaboo since 2018. Last year I took on the equipment coordinator volunteer role, which mainly consists of answering emails about cage donations and figuring out where donated cages can best be used and how to get them there. I also help with transport whenever I am able to and have gone to a few outreach events like the Oakland Zoo 100th Year/Earth Day event and Picnic Day at UC Davis. I love seeing how connected and supportive Mickaboo is within the bird community and general Bay Area community as a whole. And of course, I love getting to know the personalities of each of my little fosters! [Editor's note: pictured at right are Kate's current fosters, all budgies - Kiwi, Spinach, and Snowy.  Follow them on Instagram @kates_foster_friends ]
What is the most memorable experience you've had with Mickaboo?
This is embarrassing, but when I brought my first pair of cockatiels home to foster, I was absolutely shocked when the sun started to set and their sleepy little eyes started to close. I had somehow managed to be entirely unaware that birds have eyelids! I was completely in love from that moment on. I have come a long way in my bird care knowledge since then!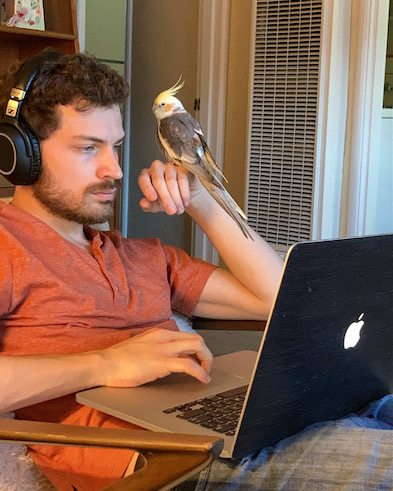 What would you say to others who are considering volunteering with Mickaboo?
First, even if you are unable to take on an official volunteer role, little things are still very helpful. If you are already driving somewhere and are able to make a quick stop along the way to drop off a bird or a cage, that's a big help to the Mickaboo team, the foster home, and the rescue bird all with low effort on you as a driver.
Second, if you are considering fostering, but are afraid of getting too attached, know that the goodbyes are surprisingly joyous. The adopting families are always SO excited to be receiving a new family member (some of them even stay in touch)! AND as a foster parent, it means that you will have space to welcome a new little friend into your home!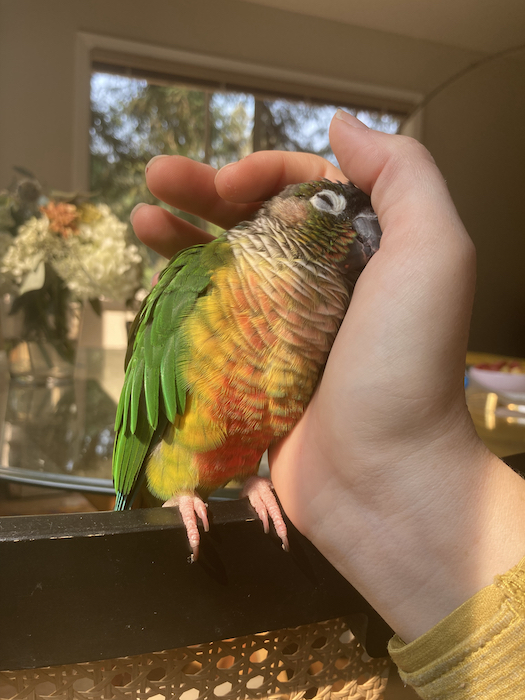 Back to newsletter's front page.
Copyright © 2022 Mickaboo Companion Bird Rescue
All Rights Reserved