Adoption Success Story: Skipper the conure
Article from "The Mickaboo Bird Rescue Companion"
Published April, 2023
By The Editor, with contributions from Robin Pugh, Conure Species Coordinator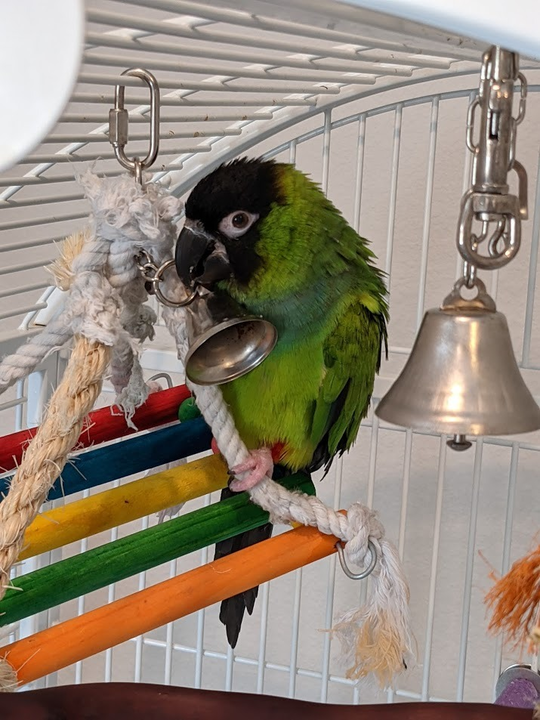 This is the story of Skipper, a Nanday conure, and his journey from his surrender to now.
Skipper was the beloved companion of a man for fifteen years. One day this man received unexpected news about his health and was given a few weeks to put his affairs in order.  Skipper was given to the man's friend for caretaking, with instructions to find him a good home. The man passed away shortly afterwards.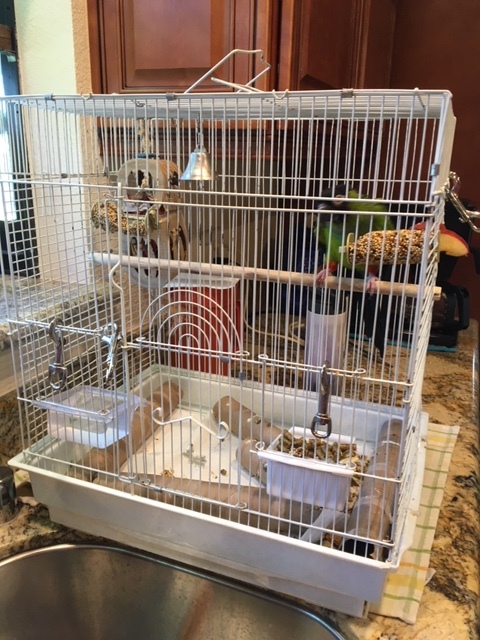 While the friend meant well, the friend had dogs, and the dogs made Skipper nervous enough that he didn't want to leave his too-small cage (shown at right). The friend cared for him for several weeks until Mickaboo picked up Skipper in May 2021.
Mickaboo's intake volunteer moved Skipper into a larger cage and gave him time to recover from the stress of moving to an unfamiliar environment.
After a month, he was moved from the intake volunteer to one who could give him more attention. He was moved into an even larger cage and given some new toys. Less than a week later, Skipper walked tentatively to the top of his cage and looked around. Two weeks later... voila! He was willing to step up and be hand-carried to a playstand.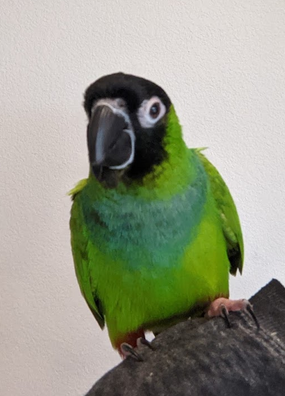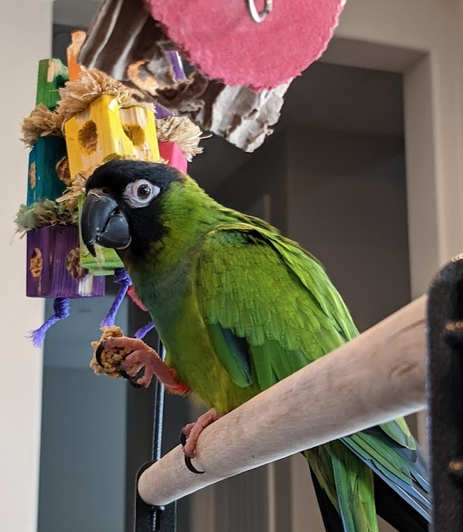 In late July, he started shoulder-surfing!
Two years and an adoption later, Skipper has fully regained his confidence. Skipper loves bathing and wedging himself into his adopter's neck to snuggle. He has also learned to fly around his room and to and from places now.
Skipper's story illustrates two points for all of us:
It's never too early to sketch out a caregiving plan for your companion animals, to be more prepared in case the unexpected occurs.
Because birds are prey animals (unlike dogs or cats) they can take a while to become comfortable in a new environment.  When they do, the rewards are great, for both the bird and their human(s).
Back to newsletter's front page.
Copyright © 2023 Mickaboo Companion Bird Rescue
All Rights Reserved