12/4/2023: THANKS to everyone who supported our weeklong holiday fundraising event!  We raised 93% of our goal!  If you are an auction winner, we will send you your invoice link by Wednesday 12/6, and ask that you pay your invoice by 12/10.  Questions about the auction?  Email pam at mickaboo dot com.  
10/29/2023: You are invited to join us as we celebrate the life and spirit of one of Mickaboo's most dedicated volunteers, Louisa Jaskulski, on Saturday, November 4, 2023.  See details here.
10/28/2023: Mickaboo is hosting monthly online adoption fairs via Zoom and Facebook. Our next adoption fair will be in 2024 - stay tuned to this space to find out when!
Missed our recent virtual adoption fairs? A recording of the October event is available now on Facebook and below. Our Youtube channel has all of our recorded virtual adoption fairs, bird nutrition videos, and more here. 
---
5/8/2023:  Announcing the winners of our Wild Parrot Design Contest!  See the winners and their artwork here.
---
4/3/2023: The Wild Parrots of Telegraph Hill won the contest to become the (Unofficial) Official Animal of San Francisco!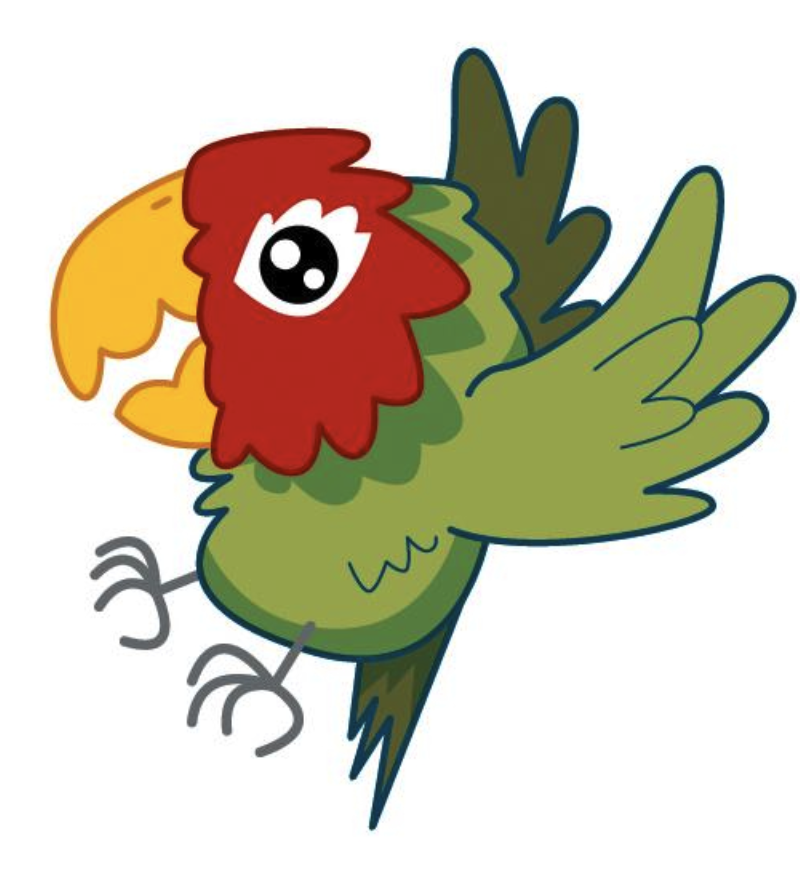 The San Francisco Chronicle ran a contest to name the (Unofficial) Official Animal of San Francisco.  Mickaboo Companion Bird Rescue put its support behind the Wild Parrots, to raise awareness of the rat poison challenge the parrots face in their San Francisco environment. Mickaboo is the primary organization providing support for sick and injured members of the Wild Flock - would you help us with a small donation?  Thanks to your collective generosity, we raised over $8000, enough to care for the Wild Flock members in our care for about 12 days.  What generosity!  Our volunteers and birds can't thank you enough.
---
3/24/2023: Welcome to Mickaboo! If you found us via the TotalSF podcast episode about the Wild Parrots, you might like this recent talk we gave about the wild parrots (featuring Joey, again!) and also our past interviews with Mark Bittner and separately with Judy Irving. Subscribe to our YouTube Channel! You can also check out this research paper published with our support for the testing developed to prove the sick wild parrots are suffering from bromethalin toxicosis. Please, don't use rat poison in San Francisco (or anywhere)!. Feel free to volunteer, foster, donate, take our free bird care class and join our community, we'd love to have you!
---
8/17/2022: Budgie SOS! Mickaboo is facing an overwhelming number of surrenders of budgies and we need more foster homes for budgies urgently! If you can help and you are already approved to adopt or foster with us, please contact our Parakeet Coordinator team. If you are new to Mickaboo and want to help, please use our Contact Form to get started today!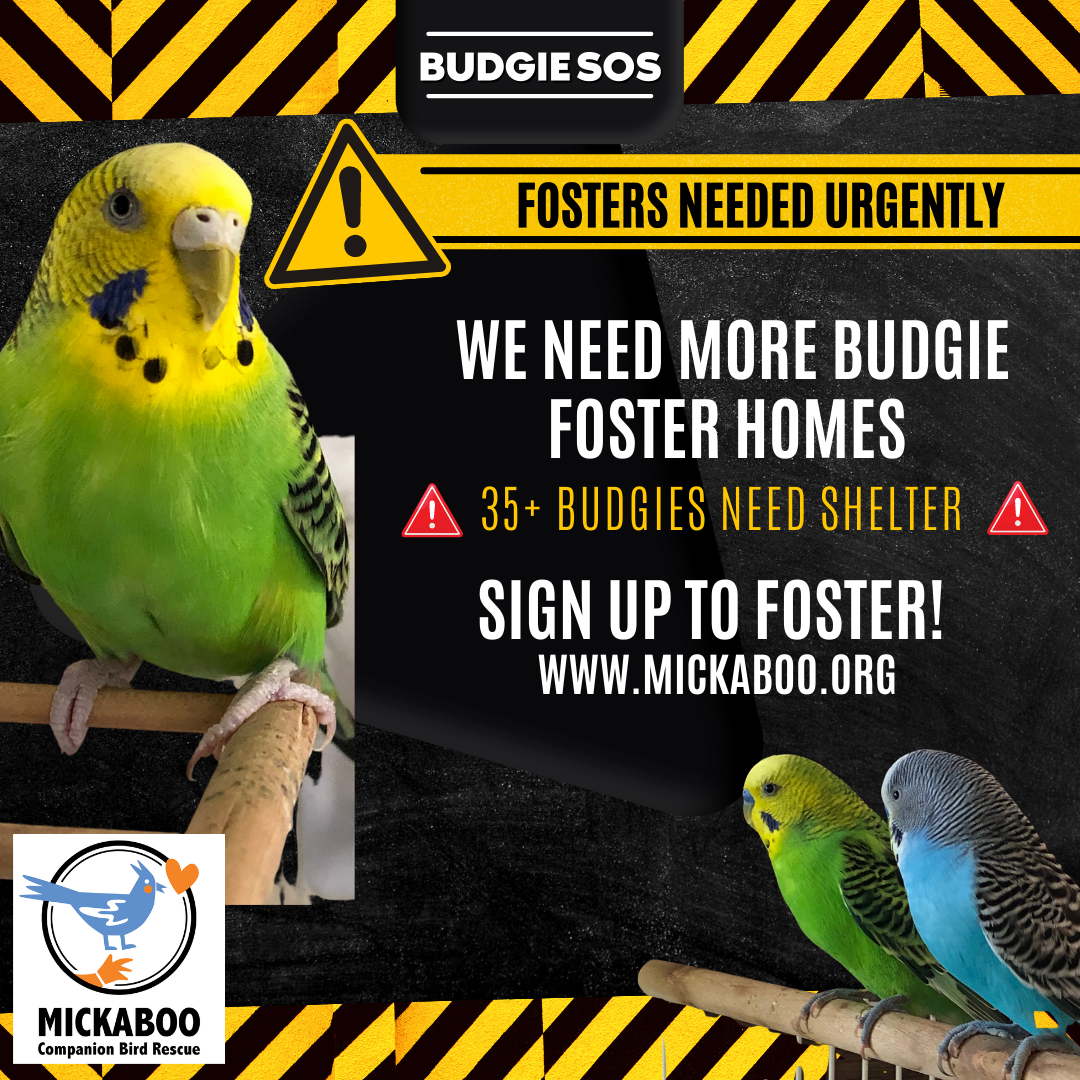 ---
4/21/2022: Michelle Yesney stepped down as Mickaboo's CEO after 18 years of service. Michelle intends to stay active with Mickaboo as an experienced advisor and board member - and of course, she'll be keeping her commitments to her current foster birds. See more details here.
---
Mickaboo is a registered 501(c)3 nonprofit organization (tax id #94-3286344) based in the greater San Francisco Bay Area. Mickaboo is an all-volunteer virtual organization, meaning we are a network of volunteers with no central physical location. Our basic goal is to rescue parrots and other commonly domesticated companion birds who have been neglected, abused, injured or surrendered to us because their owners can no longer care for them. To accomplish this goal, we do the following:
Provide medical care and safe, healthy, foster homes for the rescued birds we take in.
Take in and rehabilitate injured or sick conures from the San Francisco "Wild Parrots of Telegraph Hill" flock.
Inform avian caregivers on the most current standards of care via our free classes, online resources, and consultations.
Educate the public about the tragedies of overpopulation, and encourage them to adopt, not buy or breed birds.
Mickaboo is always looking for energetic, responsible volunteers to become foster parents and to help us rescue 300 to 400 birds every year, including helping with administration, education, fostering, public relations, technical support, and even simple one-day tasks such as bird and cage transport or staffing our adoption fairs.
We gladly accept donations.  Over 95% of the financial support we receive goes to providing direct care for our birds.