Buy a House - or Chocolate - and Help Mickaboo!
By Pamela Lee
Mickaboo has found several ways for those inclined to support Mickaboo to do so, many at no cost to themselves.  Below we highlight two opportunities relevant to this time of year.
Will 2012 Mean a Move for You?



There's a major opportunity for us to raise funds right now at zero cost. But we need to act quickly.

As you may know, many people are home shopping this time of year. And through our partnership with My Broker Donates ("MBD") our supporters who are looking to buy or sell a home win in two big ways:
When you call MBD first, you will be connected with an experienced agent who fits your needs perfectly, based on My Broker Donates' data-driven, objective recommendations. Then you choose the agent you like best. Being matched to the right agent can mean many thousands of dollars in savings.

After you choose your agent, that real estate pro will make a big donation out of their commission at closing. A $500,000 home means a donation of $2,000+.
We need to spread the word, and to reach out to make sure everyone remembers to call My Broker Donates first. So please take a moment to ask yourself: Who do I know who is thinking of buying or selling? Are you?

Then please call My Broker Donates first or call or text MBD's CEO Jack McLaughlin at 415.302.7787.

You'll get an agent whose track record and professionalism puts your mind at ease, and you'll make a huge difference for us without touching your checkbook.
A Sweet Deal!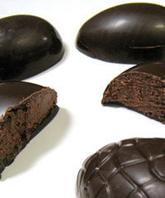 During April 2012, you can help Mickaboo by buying and eating chocolate! The Rescue Chocolate company, which donates all of its profits to various animal rescues, has named Mickaboo as its April 2012 beneficiary. The more you buy (and eat, and give as gifts), the more you will be increasing Rescue Chocolate's donation to Mickaboo. So go online now and decide which of the yummy flavors you'd like to order next month from Rescue Chocolate at www.RescueChocolate.com.
You can choose any chocolate or truffle item from the entire store, including items such as Pick Me! Pepper, Fosterrific Peppermint, Mission Feral Fig, Wild At Heart, and The Good Egg. We think you'll like what you see, because everything is vegan, kosher, handcrafted by artisan chocolatiers using traditional Belgian techniques, and packaged in eco-friendly materials.
A sweet deal? We think so! So plan to eat or give more chocolate, and save more lives!