Calendar Contest!
By Pamela Lee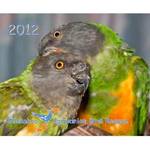 The Mickaboo Bird Rescue Companion is having a contest to determine which birds to feature in Mickaboo's 2013 calendar! We need thirteen pictures, all of different bird types. Here is how you can submit your picture for the upcoming calendar.

Eligibility: Pictured bird must be a Mickaboo bird - either a current foster or one adopted from Mickaboo.

Picture: Digital picture must be at least 2300 pixels wide by 1800 tall, at 200 dpi. No pictures of birds in dangerous situations (like being outside without a harness or unprotected by a cage-like structure).

Story: Picture must be accompanied by a short story about your bird. The story will be published along with your picture. Your story of 250 characters or less should include your bird's name and its type, such as lutino cockatiel, blue-crowned conure, Dusky pionus, or sulphur-crested cockatoo. We reserve the right to edit your story for length and writing style purposes.

Submission: Send your story and picture to pr@mickaboo.org, with "2013 Calendar Contest" in the subject line. Stories and pictures must be received by June 25, 2012.

Judging: The five best entries in each of the thirteen categories (to be determined after submissions have been received) will be put to a public vote. Voting instructions will be published in our July 2012 newsletter. All decisions by the judges as to eligibility or other contest decisions will be final.
Questions: Send questions to pr@mickaboo.org, and put "Calendar Contest Question" in the subject line.
Editor's Note: Mickaboo's 2012 calendar and other Mickaboo-themed items are available for sale at http://www.cafepress.com/mickaboo.  A percentage of the sales of these items benefits our bird rescue.