Mickaboo to the Rescue
By Lucy Macmillan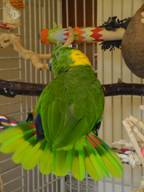 Caring for families and friends, including our companion birds, can be a life-long commitment. Over the last few years, most of us know someone (or perhaps "are" someone) who has been hard-hit financially by the downturn in the economy.  During hard times, people may have to move for a new job, get evicted from their home, or experience foreclosure.  Regrettably, and often tragically, pets, including companion birds, may be more affected by these events than their owners who may no longer be able to or want to take care of them.  Some of these animals are adopted, some abandoned, and some set "free" to fend for themselves outside.
And then there are some people in our society that can be more severely impacted than others by hard economic times, such as U.S. veterans, many of whom live alone and are elderly.  Logically, some veterans have a companion animal.  Sadly, sometimes both need help from strangers at the same time.  Fortunately there are people who can help.
Before Christmas last year, an elderly veteran and an over-30-year-old Amazon named Limer needed help. Thanks to the dedication of a persistent social worker and the volunteers at Mickaboo both of them got it. But it wasn't easy work.
After entering the VA hospital, the veteran expressed his concern for his much-beloved avian companion Limer. Over the course of the next few days, his caregiver searched for how to help Limer, a bird she never had met.  She tried reverse-dialing the man's neighbors, contacting the local Humane Society - anything she could think of - for ways to rescue Limer.  Fortunately she found Mickaboo. 
Limer, whose fate was entrusted to Mickaboo in his owner's dying days, was close to being rescued. But at this stage in the game, he had been left alone for nearly a week.  No one really knew if Limer had been left with enough food or water or what the conditions where he lived were like.  Who knew what his rescuers would find?
Mickaboo, armed with neighbor contacts provided by the social worker, gained access to where Limer lived.  Limer was found alive, although not surprisingly with little food and dirty water.  Limer, a true (and rather filthy) survivor, allowed rescuers to help him, and with some gentle encouragement was willing to step up on a perch and be transported to For the Birds, an avian veterinary hospital in San Jose. Limer was cleaned, fed and cared for. Shortly after "his" rescue it was determined that Limer was actually a "she"! Within a few days of her rescue and the start of veterinary care, Limer was picked up by a Mickaboo foster family where she now awaits adoption.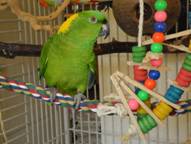 Limer's foster family describes her as a sweet, somewhat overweight bird who is a little lazy and a bit shy, but warms up in the company of people. And look how beautiful her plumage is now!  While she may not be as agile as she could be, that should improve over time with eating a healthy diet of greens and more protein and getting more regular exercise.  In the two months since her rescue she has become more vocal with lots of greetings and ritualistic sessions every evening with family members.  Her foster parents say she has an extensive set of laughs, whistles, burps, burbles and gibberish and loves to sit on a shoulder now and then. And like many parrots she seems to prefer people to other birds.  As Amazons can live well into their 90s, Limer would like to find a forever home with a younger person or family.  If you think you would like to adopt Limer or donate through the Mickaboo Angel program to defray her veterinary expenses and elevate her story to yet a happier chapter, please contact Mickaboo at coordinator-amazon@mickaboo.org or angels@mickaboo.org, respectively.