A Mickaboo Adoption Success Story – Joey, the Amazon
By Tricia L. Mobbs, Adoptive Parent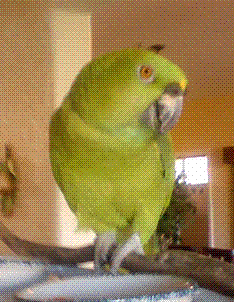 I wanted to give you an update on my wonderful Mickaboo Amazon, Joey, who came to live with me on March 27, 2010. I met him at a Mickaboo Fair and he was the largest and most beautiful Amazon I had seen. I completed all the requirements to adopt; but two others had also applied for Joey. But he and I were meant to be as he stepped right up and gave me a little kiss at our first meeting. The foster Mom told me later that she was afraid he would bite me.... but we had an instant connection.

Being 30 years old, Joey was pretty set in his stubborn ways, and told me right up front --- "Well, New Mom...I don't have much use for you. So just let me be and bring me food!" And certainly he didn't have use for his new roommate, Wilson, a very well-mannered African Grey.
| | |
| --- | --- |
| After many months...Joey began lighting up when I came in the room, and gave me quick kisses. Stepping up was a piece of cake (although he wasn't rewarded with cake, but almonds in the shell). Joey enjoys perching at the edge of my bed when I take a nap. After close to a year in my home, I felt a little nudge on my hand. It was Joey who had come over and put his head down for his first scritches! There were years of old feather sheaths to break up and shake off. We both loved those extended feather grooming sessions. Joey now runs over to me to be picked up when I get home, and loves our good-night routine. | |
My birds live outside the cage (we have a very fun bird area). But once every two weeks, Joey goes into a travel cage when the housecleaner comes. He actually enjoys it and bows his head to get in and out. I think it's his little sanctuary time.

Joey and Wilson (my African Grey) have become like brothers. They established their pecking order and like each other's company. Joey is certainly the boss, but Wilson is very much the little brother and likes to mess with Joey sometimes. I have to say one of my greatest joys is observing their interactions.

I want to THANK MICKABOO for taking such good care of my Joey until he could come to his forever home!!!
Editor's Note: We enjoy hearing how our birds do after adoption and would like to publish YOUR story! Send your adopted Mickaboo bird's story and picture to pr@mickaboo.org for consideration for a future newsletter article.