Online Avian Supply Shopping Options
By Amanda Samford
(Editor's Note: The following article reflects the opinions and experiences of the author. These businesses are not necessarily endorsed by Mickaboo as an organization.)
Psittacine Beak and Feather Disease, Polyoma, and Psittacosis are three reasons why parrot owners are becoming more conscious about purchasing their bird supplies and toys from stores that don't house birds. Compiled below is a list of various online stores that offer bird toy parts, organic food, and handmade toys. The vast majority of them own birds and test items they sell with their flocks. This list is far from comprehensive but gives a good selection of reasonably-priced parrot supplies. Also included are any sales or specials occurring in April 2011. A few of my favorites are highlighted with descriptions of what you can find on their site.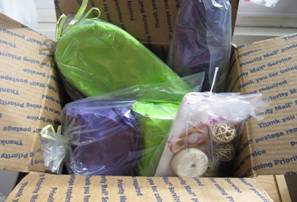 Kathie of My Safe Bird Store (http://mysafebirdstore.com) is an amazing person who offers awesome unique items on her site. From amazing custom-blend foods, bulk toys and parts, and the ability to custom-order anything (she found me ceramic crocks to fit the rings on my California Cage that you can't find anywhere)...this is my first stop when I need something bird-related. Kathie is currently running an Easter egg special - for every $20 spent you get an Easter egg with a coupon for free Nutriberries and a free toy, plus the chance to win a medium java tabletop stand. She is proud to offer Mickaboo adopters and fosters a 10% discount (enter code MICKABOO at checkout). She also offers free shipping on orders of $100 or more. Her packages come so nicely wrapped!
Avian Organics Parrot Food (http://www.avianorganics.com/) blends organic foods into easy meal-time and snack-time goodies for your birds. This place is great and clearly has the best diet for your bird in mind.
Things for Wings (http://www.thingsforwings.ca/) is a Canadian bird store and is definitely worth your while. They design and paint custom bird signs, as well as sell toys and parts. Danita can paint any bird, phrase, slogan, or sign you desire! (See picture above for an example.)
Cavalier Bird Toys (http://cavalierbirdtoys.com/) offers awesome parrot toys made from things like PVC and plastic parts that are great for the big guys. They have smaller versions as well as a variety of new and inventive foraging toys.
Avian Antics (http://www.aviananticsbirdtoys.com/) is a site that supports rescues and features them on her site. She offers everything from harnesses to bulk toy parts.
Blue's Bird Toys (http://www.bluesbirdtoys.com/) has an inventory reduction sale starting April 1 - great selection of toys and toy parts; also offers discount bulk pricing.
The Cheeky Parrot Store (http://www.thecheekyparrotstore.com/) offers free shipping on items donated to rescues. They have a great search feature where you can search by price, so if you just want to browse what's under $25, you can stumble across some new things! They have everything from replacement Lixit parts to very reasonably priced sisal perches and climbing nets.
California Bird Nerds (http://cabirdnerds.com/) is another great place to order toy parts, and they have awesome stuff like dollar deals. Have a bird that likes to play with keys? They offer hard-to-find plastic replicas. They also offer items like pine slats, skewers, and bulk products by the pound.
Desert Peeps (http://www.desertpeeps.net/) may fool you with their down-home-styled website, but they offer some cool stuff, including shoulder covers/capes to protect you from bird poop. Check out their huge foot toy selection, most under $5!
Other bird-free stores include:
Bird on the Rocks (http://www.birdontherocks.com/) offers the original flagstone perch and can do custom orders for things like shepherd's toy hooks.
Chopper's Toys (http://www.chopperstoys.com) has two great sections including a "tiny birds" and "big birds" section that make it easier to shop by bird size. Their sister site, the Royal Parrot (www.royalparrot.com) is geared towards larger species like cockatoos.
For Your Bird (http://www.foryourbird.com/) is a great place to buy bird food in bulk.
Oliver's Garden (http://www.oliversgarden.com/) has handcrafted bird toys from Canada.
Parroteelia Bird Toys (http://www.parroteeliabirdtoys.com/) does custom-order bird toys.
TLC Parrot Toys (http://www.tlcparrottoys.com/) has unique handmade toys (currently closed for a few weeks due to the family's ailing health).
True Love Aviary E-Store (http://www.trueloveaviary.com/) is a hand-designed website designed with smaller birds in mind.