How Ms. Pickles Became a Mickaboo Angel - and How You Can Too!
By Lucy MacMillan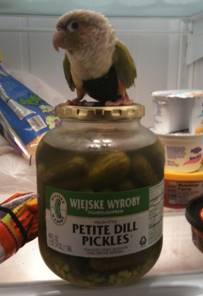 This is the story of how Ms. Pickles, a cinnamon green cheek conure, contributed to Mickaboo's Angel Program by touching the hearts of her family.  Ms. Pickles was adopted by Lorrie and Justin in July 2009 when they saw an ad for her on Craigslist.  They fell in love with her at first sight, later saying "this tiny bird was as brave and fierce as a lion, but a slave to head skritches". Like most companion birds, especially adopted ones, Ms. Pickles was a fighter and a lover.
Her new owners thought of Ms. Pickles as part of the family and she was included as such.  She would perch in Lorrie's bag while shopping, take road trips, and even attend children's soccer games where she was considered a good luck mascot.  Her natural coloring gave her the look of donning a flight suit that complemented her adventurous spirit.  Her father taught her how to roll over and to dance, and she happily explored the unknown of a refrigerator, including jars of pickles.  Unfortunately, Ms. Pickles passed away last June.  She is dearly missed and forever in her family's hearts. 
To help with their loss, Ms. Pickles' family purchased a pet remembrance journal which recommended donating to a charity on behalf of their bird.  "Helping other birds in need through her memory helps us feel happiness instead of pain" Lorrie says.  So they researched a variety of bird organizations and "were ultimately touched by Mickaboo's successful adoption stories and tributes.  We also love that Mickaboo cares for the injured or ill birds of San Francisco's parrots of Telegraph Hill.  This documentary film was one of Ms. Pickles' favorite movies".  And so her family generously decided to contribute to Mickaboo's Angel program.
Benji and Sophie (formerly Travis and Monkey) are the fortunate recipients of Ms. Pickles' memorial.  Ms. Pickles' family chose these two inseparable lovebirds because they wanted Ms. Pickles to "be an angel to birds who didn't yet have an angel and also because of their size.  We are saddened by how many people view small animals as disposable and replaceable.  Even though they are tiny, their lives are just as precious". 
Unfortunately, many of the birds that come into Mickaboo's care have been injured, abused, neglected, or are very ill.  As a result, they need medical attention, behavioral training, and extra love and nurturing before we can place them in adoptive homes.  Benji and Sophie, two of approximately 300 birds in Mickaboo's foster care, are no exception.  In foster care since last summer, Sophie has had an operation to remove a cyst that originated behind her eye.  With medical and foster care, she has recovered beautifully.  Benji, on the other hand, continues to struggle.  He came to Mickaboo underweight and is still trying to reach and maintain a healthy weight. He also seems to have a balance problem and often falls off his perch.  His bright orange feathers are not normal either.  As a peach-faced lovebird, he should have a peach colored head with a yellow body.  It has been suggested this abnormality may be attributed to a genetic problem or possibly inbreeding.
Yet despite their challenges, the two lovebirds persevere.  They share the same cage and are very protective of it and each other.  Their attachment is strong; Benji is determined to sleep beside Sophie even though he may slip off the perch occasionally.  Recently Benji has had to undergo more tests for this problem as well as for his weight issue.
Medical care for birds is expensive but we at Mickaboo believe every bird deserves a second chance despite these costs.  We allow each and every one of our birds like Benji and Sophie as much time as they need to find that special adopter who is willing to care for them.  As Mickaboo has grown, and we have taken in more birds, our monthly vet bills have increased significantly, averaging $15,000 per month.
We understand that some may want to help Mickaboo, but cannot foster or adopt a bird. Becoming an Angel to a bird in need is a wonderful way to help us take in birds from shelters or private surrenderers.  Your donations, like the one in memory of Ms. Pickles, can be directed to a particular bird or birds to defray their vet bills while they wait for forever homes.  If you are interested in becoming a Mickaboo Angel please visit our Angel page for more information or email us at angels@mickaboo.org, tell us which bird you would like to support, and how you would like to be acknowledged on our website.  Birds like Benji and Sophie who were fortunate enough to receive Angel funds in memory of Ms. Pickles will thank you.