Welcome to "The Dove Sanctuary", a.k.a. 'Birdland'
By Jo-Anne Dao, guest author and MickaCoo Adopter
| | |
| --- | --- |
| | I feel GREAT! Just got back from a wonderful 20-minute break in 'Birdland' (it's the name of my Dove Sanctuary and I'll explain that one later). Birdland is a peaceful outdoor aviary filled with the beautiful sounds of cooing doves, planter boxes full of delicious greens, a busy birdbath and all the drama and comedy one needs to take the edge off an otherwise hectic day. |
With a resident dove flock of six, I guess that now officially makes me a 'dove person'.
Was this on my List of Things To Do this year? No. But it happened and I couldn't be happier. Let me fill you in:
I am a wildlife rehabilitation volunteer at the Peninsula Humane Society and was surprised to find a pair of domestic ringneck doves in our recovery room last fall. It turns out that a wildlife rescue group (not PHS) had used them as live bait to help lure a hawk out of a high school gymnasium. It worked. (For the hawk, at least) The hawk was rescued and released and now we were helping heal the wounded doves. Because they were not wild, they were kept in a nice cage in an office. I loved to come in and take care of them and inquired when they might be adopted out. I was surprised to hear the answer that "it will probably take a long time since there are so many doves and pigeons out there". Now, I like to think I am pretty in tune with animal issues but, to be honest, this was the first time I heard this about doves and pigeons. Gee - after these two doves were forced to experience this horrifying ordeal and lived to tell the tale, I couldn't bear the thought of them sitting in a cage for who knows how long. I decided to adopt.
I went home and started Googling everything I would need to know in order to have happy and healthy doves. Elizabeth and all her MickaCoo resources got me going in the right direction. There was never any doubt that these heroic doves would live out their days in an outdoor aviary and I had just the perfect little spot in my backyard for it. Two of my friends, who are jazz musicians, offered to help build it. I had three requirements: 1) it needed to be comfortable and safe for the doves, 2) it needed to enhance the beauty of our yard, and 3) I wanted it to be something to enjoy. I didn't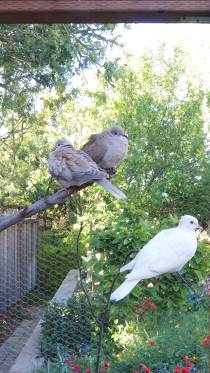 want to just look at them through wire; I wanted a place where I could join in and share in their world.
The result was "Birdland". Birdland is 10 ft x 10 ft x 8 ft and built from beautiful redwood. Inspired by what we do at the Peninsula Humane Society, I decorated the interior with natural elements. Real tree branches with varying circumferences, an edible garden, a water feature and lots and lots of natural perching spots including a garden bench for ME to sit on. Everything is in natural brown tones with accents of moss green and lavender. What can I say---it is gorgeous both inside and outside. AND - as homage to our wonderful musician-artist-builders, we named the doves after great jazz musicians: Ella and Basie.
Since then we have adopted four more homeless doves (one from the Peninsula Humane Society and three from MickaCoo) and, in keeping with tradition, their names are: Charlie, Lena, Louie, and Thelonius. Life has greatly improved since the doves have joined our family. When we have friends over, I often am greeted with, "Can I go see the doves?" and I love to sit in the morning with my cup of coffee in hand and watch Lena and Louie snuggle in their nest. Long phone calls are conducted sitting on the bench while Thelonius finds choice greens in the garden. I can never get enough of Basie strutting his stuff for the ladies (or his mirror). Having a stressful day?...no problem, it's out to Birdland for me.
So when I say it is a dove sanctuary, is it for the doves or me??? I think it's for all of us.
Oh, and I didn't forget. "Birdland" refers to the NYC landmark jazz club named after the late great Charlie "Yardbird". But you knew that.
Jo-Anne lives in San Mateo with her husband, Jeff & son, JT. She has been helping to rehabilitate wildlife at Peninsula Humane Society for the last 7 years. Twice a year you will find her office converted to a baby squirrel nursery where she fosters orphans. Over the years she has had the privilege of welcoming 2 beagles, a cockatiel, a blind chameleon, 2 rats, a hamster, 2 box turtles and now 6 doves into her family.
Links of interest:
MickaCoo Pigeon & Dove Rescue
Ringneck Doves as Pets
Contact Elizabeth