Success Story - Paco
by Margie Gear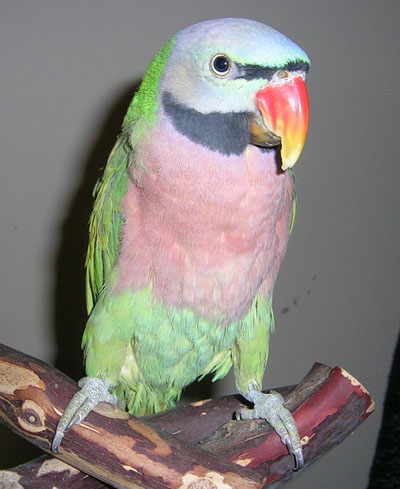 One day back in 2000, I found myself perusing the shelves at my local Petco for some emergency bird food. I thought I heard a muffled cry. I peered over to where the sound came from and all I saw was a stack of boxes. I ventured over and peeked behind them. I saw a small cage containing a male moustache parakeet. He was very thin and dusty, in a cage containing no food or water or toys. He looked up at me and vocalized again. I went and picked out a toy for him and brought it back, only to find that his cage was locked. Read More
Teflon and Birds: What You Need to Know
by John Graziano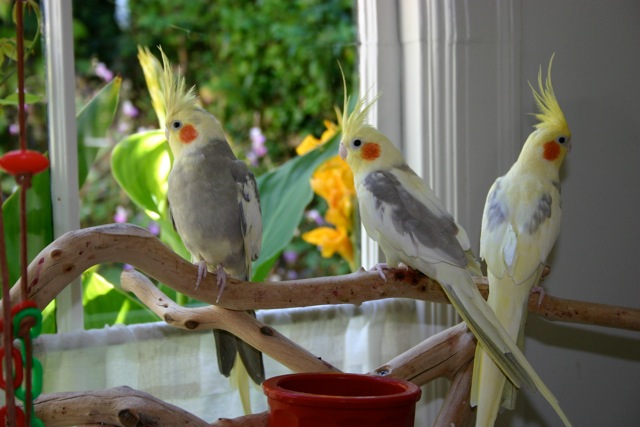 Almost all avian caregivers have heard the horror stories about birds exposed to Teflon fumes. While most of us are aware of the dangers of Teflon cookware, it's often unclear which products contain Teflon and what uses are considered "safe". While it's almost impossible to eliminate all Teflon from our homes, a bit of knowledge and research can help avoid some of the most dangerous products. Read More
8th Annual Fall Furry Flurry
By Leslie Grant
Come out and support your favorite rescue group – Mickaboo – at the 8th Annual Fall Furry Flurry to be held on Sunday, October 17, 2010 at the Los Gatos Creek Park in Campbell.
Besides food, there will be games, activities, and a silent auction and raffle for some amazing items: dog, cat, and other quilts, a bi-plane ride, doggie day care/training certificates, concert tickets, a beer basket, wine baskets, a visit to a bed and breakfast, Sharks tickets, 49er tickets, and more!
You can help in many different ways.  Volunteer to help run the Flurry, support our volunteer Pamela Lee as she walks on behalf of Mickaboo, get sponsors and walk yourself, walk with your dog, or walk on behalf of your bird, rabbit, or cat. Or maybe you have a unique service that you want to donate as a raffle item. Read More
Tojita's Story
by Margie Gear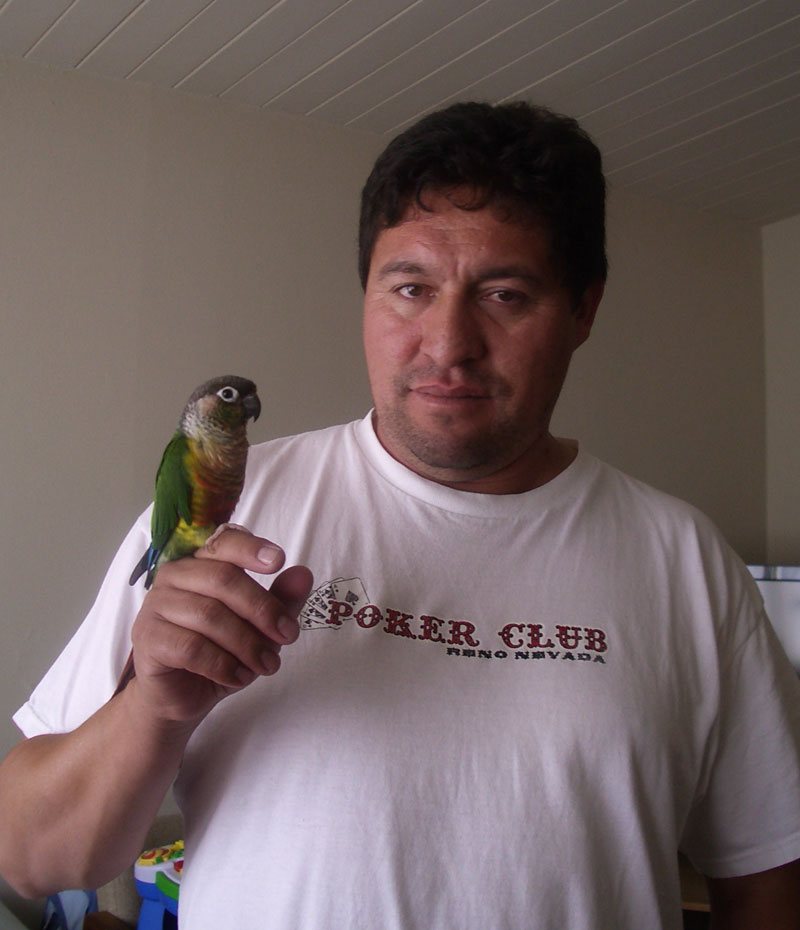 It all started when my good friend and neighbor came over and knocked insistently on my door.  I knew it had to be important, as he wouldn't otherwise venture so close to the screaming and squawking that filled my jungle home.   We walked away from the din and along the front yard path.  "My son found a parrot.  It flew onto his back as he bent over in his backyard out in San Rafael.  What should he do with it?  I figured you were the right person to ask."
When I asked him if he had any details, he handed me his cell phone.  On the other end was his twentysomething son.  In a nutshell, he was well-meaning and utterly uninformed.  He said he thought it was a conure.  He sent me a photo of the bird – indeed, it appeared to be a little green-cheeked conure. He explained that she was "safely" hanging out in his bedroom.  He had no cage or other housing.    When he mentioned that he had a "curious" dog on the other side of the door, my second red flag went off.   I encouraged him to let a nearby Mickaboo volunteer take the bird – I didn't know who that was at the time, but I knew of a few folks in the area -- but he said that he was fine and would take care of her.   He then announced that he might keep the bird for himself, or give it to a friend visiting from out of state so he could take the bird with him.  I knew this might prove a delicate and difficult situation, and that time was of the essence. Read More
Disinfection -- Principles, Methods and Madness
by Louisa Jaskulski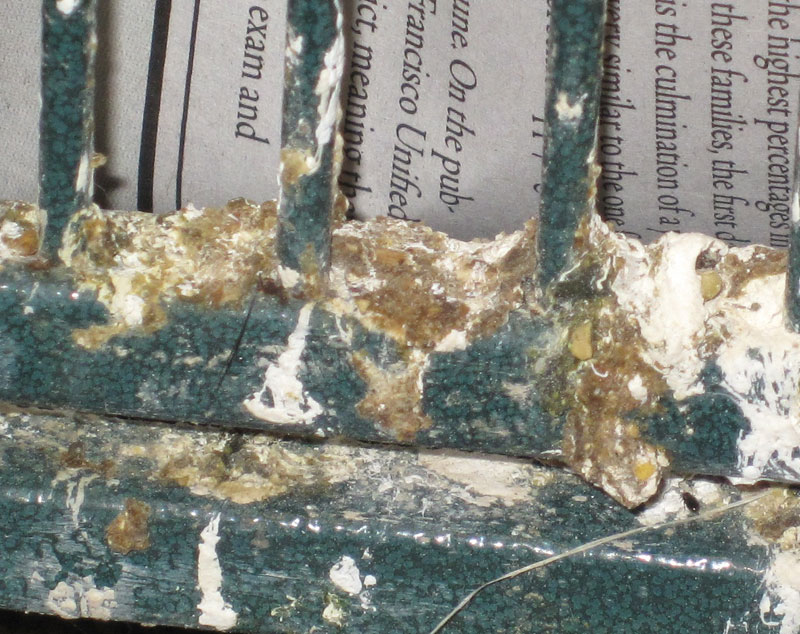 "Keep it clean!" is an essential aspect of animal husbandry. We live in a soup of microscopic critters, of which some can cause serious disease for pets and/or humans. The challenge is to keep the disease-causing critters under control, without driving ourselves to the point of complete insanity - anyone who cares for multiple birds (and/or other children or pets) knows this is a task which is never "done". Read More
Online Auctions Benefit Mickaboo!
by Pamela A. Lee
BONUS for newsletter readers: we have two online auctions, including a wonderful weekend stay on the Mendocino coast. These auctions end on October 22, so bid soon!
Save the Date - Holiday Party
by Pamela A. Lee
Mickaboo's Annual Holiday Party and Fundraiser is our favorite event - a place and time to celebrate past successes and set the stage for our future! This year's event will feature the usual great food, drink, and offerings of donated items.
Where: Palm Pavilion, Alameda County Fairgrounds
When: 5-9 pm on Saturday, December 4
Admission: $20 per adult, $35 per couple
Want to reserve your spot at the party, donate an item or service, or help sponsor the party? Contact Mickaboo to make arrangements!
Grover's Story
Story and pictures by Vincent J. Hrovat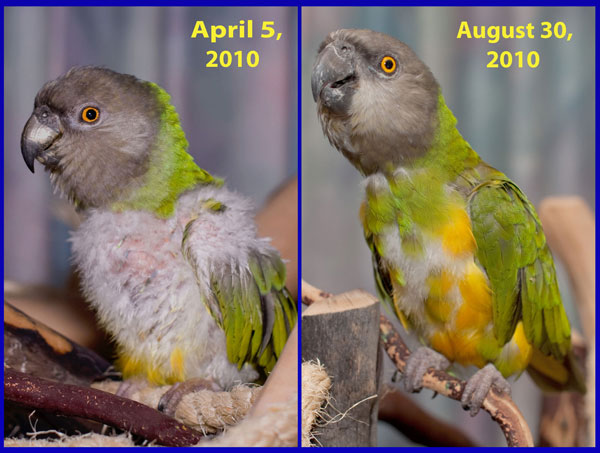 As anyone who's cared for a bird with a plucking disorder knows, the potential causes of such a disorder are many. Primary causes of chronic and destructive plucking behavior include poor diet, food allergies, boredom, stress, fear, zinc or lead poisoning, environmental toxins, infection, skin disorder, and hypothyroid disorder. To further complicate things, plucking can become a habit that is hard for a bird to break, or it can cause skin discomfort which stimulates further plucking. These secondary causes can mean that the plucking habit will continue after the primary causes have been remedied. Read More
Ancestors of our Birds: Agile, Cunning, Feathered, and… Toothed?
by Tanya Renner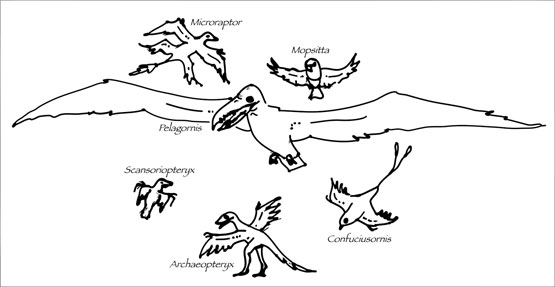 After watching the movie Jurassic Park countless times and experiencing the scene of the Velociraptor in the kitchen, I am more than confident my foster green-cheeked conure 'Purby' descended from a dinosaur. However, there is much more evidence for a close relationship between birds and dinosaurs than an interpretation of behavior from a Hollywood movie. You may have heard that birds evolved from dinosaurs, but it's a little more complicated than T-Rex slowly becoming a chicken over time! Some scientists think that birds shared an ancient common ancestor with only a certain group of dinosaurs, and over time, birds and dinosaurs took separate evolutionary paths. Read More
Hang 'Em High!
by Jonathan Harris and Margie Gear
Toys Toys Toys! Our birds need them for exercise and stimulation, for cognitive development, and for their emotional wellbeing. An abundance of good toys can reduce anxiety, screaming, aggression, self-mutilation and other problem behaviors (in frustrated human caregivers as well as in our birds). They even may deter feathered flockmates from improvising toys out of our baseboards, furniture, pencils, curtains, shirt buttons, shoulders, earrings, ears, and all those really important bills we were just about to pay.
Well, perhaps not. But there's no doubt toys are essential to the enrichment and happiness of our flocks. And because birds chew through them at a prodigious rate and appreciate novelty and variety, it behooves us to change and replenish their stock frequently and figure out creative ways of arranging them. Read More
Bird of the Month
by The Editor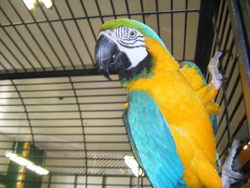 Hi! My name is Charlie and I am an 11 yr old Blue & Gold Macaw. My owner recently passed away and I am now in need of a permanent home. I am a good boy who loves to play and receive attention. I know how to talk and can say words like Hi, Hello, What's Up, and I also speak some gibberish. I was recently taken to the vet and I have a clean bill of health. I love to eat my fruits and veggies and I also enjoy Harrisons and Roudy Bush pellets. I know how to step up and I have so much fun playing with my toys. I have recently been moved from Andy's Pet Shop to a foster home. I am hoping this nice guy will want to keep me but in the meantime I am still available for adoption. Read More