Bijou
Bird ID: 7066
Species: Cockatoo
Sex: Female
Sub-Species: Goffins
Health Status: Healthy
Good with Children: Unknown
Well Socialized: Unknown
Currently in Foster Care
Sponsor Me!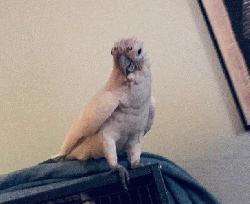 If you're approved to adopt, click here to email my adoption coordinator.
To learn more about fostering or adopting our birds, please click here.
---
My name is Bijou and my name suits me because I am a little jewel! I am a sweet female Goffin`s cockatoo of about 30 years of age. I like to be petted and get scritches on my head and I will "step up" and dance on my person`s shoulder. It is very important that you only pet me above the neck so that I won`t get hormonal! I haven`t bitten my people. I was with my human dad for most of my life until he had to go into a nursing home. My current owners have had me less than a year and they love me but they are retiring in Mexico and they can`t bring me because Mexico has strict regulations about importing birds. I am good about eating my fruit and vegetables but not pellets. Although I`ve been a little stinker about eating pellets, you will need to be creative to convert me to a pellet-based diet because it is much healthier for me than seeds! I`ve been plucking the feathers on my head but I`ve been to an avian vet and it doesn`t appear to be a medical problem. I can be loud in the afternoon. Fireworks and new toys scare me. You will need to introduce new toys slowly. This involves hanging them up outside my cage and moving them closer over several days. If you have a big heart and want to be my new family, please go to "how to adopt" on the website and fill out an application to adopt Bijou!