Princess
Bird ID: 6755
Species: Finch/Canary
Sex: Female
Sub-Species: Canary
Health Status: Healthy
Good with Children: Unknown
Well Socialized: Unknown
Currently in Foster Care
Sponsor Me!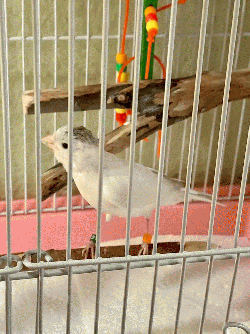 If you're approved to adopt, click here to email my adoption coordinator.
To learn more about fostering or adopting our birds, please click here.
---
Hi I am Princess a female long legged canary. People tell me I`m very cute! I`m quite active and I eat Everything!!! So did you know that canary are finches? Pretty cool right?! I am pretty happy now as I have made a best friend from a Zebra finch female who looks just like me! We follow each other everywhere and even take baths together! It is pretty amazing whoddah thunk it? Anyways off to hopping and fly all over a girl has to stay fit you know!