Jelly Bean (Pretty Girl original)
Bird ID: B2019007
Species: Lovebird
Sex: Female
Sub-Species: Masked
Health Status: Healthy
Good with Kids: Unknown
Well Socialized: Unknown
Adoption Status: Adoption on 2019-12-12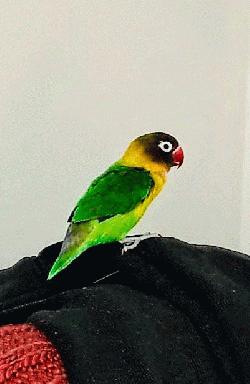 My Sponsors: Sponsor Me!
If you're approved to adopt, click here to email my adoption coordinator.
To learn more about fostering or adopting our birds, please click here.
---
Hello I am Jelly bean. I am new and it is pretty scary being away from my home. I also recently lost a mate and am pretty sad but the birds here make for good conversation even if I can`t be with them yet. I really would love a friend! Someone to cuddle with and preen and talk to...I will be visiting the doctor soon and hoping for a good result. My diet was not very good before but we are trying to work on that, I am really not sure about the weird brown pellet things...seeds are much tastier! I do like apple however. Hey it is something right? And it is a fresh food! I hope I can overcome my fear of hands, the human bird tree here looks pretty interesting! Well I am not sure what else to tell you for right now but if you have a lonely lovie looking for a friend maybe you can pick me! Tweet chirp, Jelly B PS: I am a Fischer`s Masked hybrid! If you are interested in Jelly Bean or any of our lovebirds please contact the coordinator / How to adopt link. Thank you!