Tab M
Bird ID: C2019033
Species: Parakeet
Sex: Male
Sub-Species: Standard Budgie
Health Status: Healthy
Good with Kids: Unknown
Well Socialized: Unknown
Adoption Status: Adoption on 2019-09-15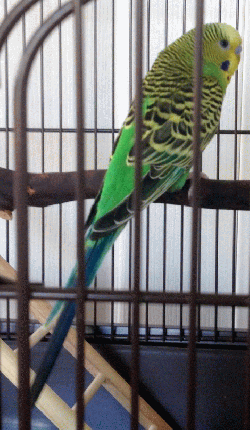 My Sponsors: Sponsor Me!
If you're approved to adopt, click here to email my adoption coordinator.
To learn more about fostering or adopting our birds, please click here.
---
Hi, I`m Tab. I am a quiet little guy who doesn`t like to be handled but am happy with ambient attention. I`m happier with other budgies. Hands kinda scare me, but I`m ok if you approach me quietly and chat with me. I enjoy apples and other fruits, but I`m not the biggest fan of veggies. Maybe I`m your guy if you are looking for a laid-back, relaxing budgie companion?