Major
Bird ID: O2019001
Species: Macaw
Sex: Unknown
Sub-Species: Military
Health Status: Special Needs
Good with Kids: Unknown
Well Socialized: Unknown
Adoption Status: Adoption on 2020-07-10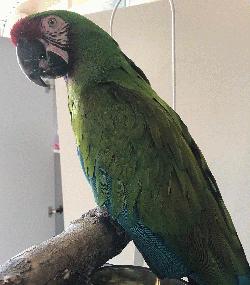 My Sponsors: Sponsor Me!
If you're approved to adopt, click here to email my adoption coordinator.
To learn more about fostering or adopting our birds, please click here.
---
Hello! My name is Major and I`m a very nice (and handsome I`m told) Military Macaw just looking for that special someone or family to call my very own. I`m a pretty chill guy who really just enjoys just hanging out with you. Dinner and a movie maybe? I like watching tv and I`m a very good eater. (Well I am a macaw afterall!) I eat my pellets and veggies and really love sweet potatoes! Enjoy my showers too. A handsome guy`s gotta keep himself looking good you know! Right now I do need a little pain reliver daily for some mild arthritis. Well, that`s it for now! Please contact the macaw coordinator to hear more about me.