Blueberry (& Coconut)
Bird ID: C2019032
Species: Parakeet
Sex: Female
Sub-Species: Standard Budgie
Health Status: Healthy
Good with Kids: Unknown
Well Socialized: Unknown
Adoption Status: Foster on 2019-08-06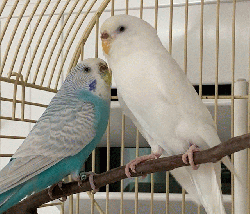 My Sponsors: Sponsor Me!
If you're approved to adopt, click here to email my adoption coordinator.
To learn more about fostering or adopting our birds, please click here.
---
Hi, I`m Blueberry, the blue budgie seen here with my friend, Coconut. We were found in Sacramento and turned over to Mickaboo. Not much is known about me yet - I am considering stepping up for my foster parent but I get so angry when she grabs my pal Coconut every day to give her medicine! But I`m a sweet budgie girl and I`ll get over it. I am happy eating the Harrison`s fine and good-quality seed mix I`m being fed, plus some freeze-dried herbs and veggies. I am quite suspicious of those fresh foods, I`ve never seen that before! But I`m willing to maybe kinda sorta give them a try. Would you please consider taking me and Coconut into YOUR forever home?