Madam Salaam
Bird ID: C2019030
Species: Parakeet
Sex: Female
Sub-Species: Standard Budgie
Health Status: Healthy
Good with Kids: Unknown
Well Socialized: Unknown
Adoption Status: Foster on 2019-08-05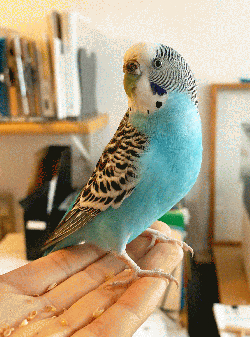 My Sponsors: Sponsor Me!
If you're approved to adopt, click here to email my adoption coordinator.
To learn more about fostering or adopting our birds, please click here.
---
Hi there! I`m Madam Salaam. I`ve been with Mickaboo a few weeks now, and I have blossomed! I`m still a bit shy but I will come out of my cage now and then to explore, check out objects with my beak, find places to climb. I have a few favorite toys, and several different favorite perching stations. I`m still in quarantine, but when the birds in the other room are chirping, I perch as close to them as I can and I speak right up! I am eating a healthy meal-time feeding plan - pellets in the morning, some seed at night, and all the broccoli I can eat during the day. I came in with fat pads on my chest and belly but I have already slimmed down into a gorgeous blue madam! My foster mom says I am a smart, clever, open-to-new experiences little budgie. Won`t you help me by offering me a forever home?