Macen
Bird ID: C2019029
Species: Parakeet
Sex: Male
Sub-Species: Standard Budgie
Health Status: Healthy
Good with Kids: Unknown
Well Socialized: Unknown
Adoption Status: Adoption on 2019-11-18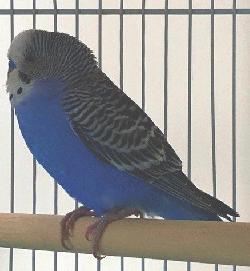 My Sponsors: Sponsor Me!
If you're approved to adopt, click here to email my adoption coordinator.
To learn more about fostering or adopting our birds, please click here.
---
Hi, I`m Macen! I came into the shelter in Santa Clara and ended up with Mickaboo. My foster parent says I`m a very sweet boy who isn`t used to people handling me. I get along well with the other budgies in the house. I like chowing down on Zupreem pellets but I`m not much interested in the veggies that appear in my cage. I do like apples, though, and my bird swing and bells. Please can you take me to YOUR forever home?