Kiwi (Keewee)
Bird ID: B2019005
Species: Lovebird
Sex: Female
Sub-Species: Fischers
Health Status: Special Needs
Good with Kids: Unknown
Well Socialized: Unknown
Adoption Status: Adoption on 2020-05-07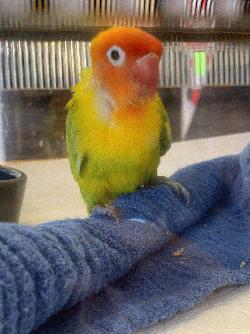 My Sponsors: Sponsor Me!
If you're approved to adopt, click here to email my adoption coordinator.
To learn more about fostering or adopting our birds, please click here.
---
Hi, my name is Kiwi! I am missing some feathers behind my head and neck but I am still cute as a bug. I am a bit shy but really sweet and not a biter! I am from Santa Cruz and was found under a car in a shopping center. Pretty scary stuff but hey a girl has got to shop! Anyways we are not sure if the missing feathers are from trauma (bumped by a big car?) or something else but until I tell they won`t know. I had a pretty rough time since coming here and was at the vets for quite awhile so imagine how happy I was to be in a home! I do have to take medicine to help my liver and will soon be off the second medicine to sooth my tummy as I ate stuff I should not have and it was causing a bit of a belly ache. I am pretty easy to care for all thing considered and recently I was paired with the escapee Attica. he sure is cute! We will keep you guys posted on how this goes :) So far so good, I mean we do like each other but will have to see if this is true lovie... 9/15/19- due to ongoing health issues Kiwi and Attica are no longer together... If you are interested in me please let the coordinator know!