Pony M
Bird ID: C2019023
Species: Parakeet
Sex: Male
Sub-Species: Standard Budgie
Health Status: Healthy
Good with Kids: Unknown
Well Socialized: Unknown
Adoption Status: Adoption on 2019-09-13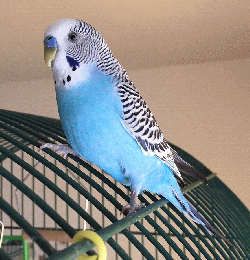 My Sponsors: Sponsor Me!
If you're approved to adopt, click here to email my adoption coordinator.
To learn more about fostering or adopting our birds, please click here.
---
Hello! My name is Pony. I like to start the morning chirping, trying to find other birds. I would love a companion, but I`m still in quarantine in my new foster home. I sing most of the day, several different songs, so if I can join your forever home, just think how much I`ll entertain you. I am very handsome, but although I have 2 mirrors in my cage, I don`t spend too much time looking at myself. I will step up onto a finger willingly about half the time . . . if I don`t care to step up, I will just look at your finger and make you wonder why you are pointing that finger at me. I am an adept flyer, but am confined to one room in my foster home, and would love to stretch my wings more in my forever home. If you have time and energy to work with me, wouldn`t I make the perfect addition to YOUR forever home?