Princess Peach
Bird ID: B2014022
Species: Lovebird
Sex: Female
Sub-Species: Dutch Blue
Health Status: Healthy
Good with Kids: Unknown
Well Socialized: Unknown
Adoption Status: Adoption on 2016-08-06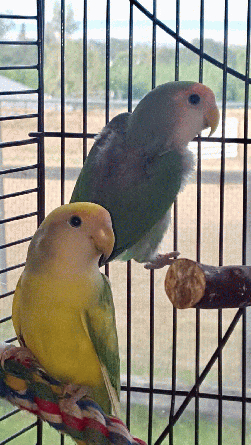 My Sponsors: Sponsor Me!
If you're approved to adopt, click here to email my adoption coordinator.
To learn more about fostering or adopting our birds, please click here.
---
Hi I am Princess Peach. I am the green (dutch blue) lovebird in the photo. My mate Lulu Lemon was the yellow bird and I am so so sad but she passed away a bit ago. I am very lonely and looking for a new friend. Is there Anyone out there for cute little me? I am not very social with people but I do like to be talked to. I am a great eater and love to fly all over the place! If you think I am the lovie for your lovie please contact the Lovebird coordinator at the link above! Kisses form the Peachy one!