Attica
Bird ID: B2019003
Species: Lovebird
Sex: Male
Sub-Species: Fischers
Health Status: Healthy
Good with Kids: Unknown
Well Socialized: Unknown
Adoption Status: Foster on 2019-08-18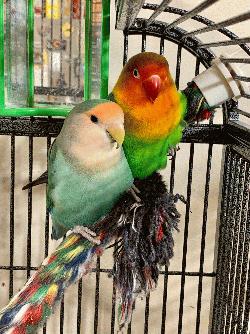 My Sponsors: Sponsor Me!
If you're approved to adopt, click here to email my adoption coordinator.
To learn more about fostering or adopting our birds, please click here.
---
Hi, I`m Attica. They named me this because I am an escape artist and when I was picked up at the shelter my cage was covered in padlocks! I`m a cute Fischer`s lovie with interesting vocalization. I was found half starved and not feeling very well. My liver hasd some damage because of this but hopefully that will heal itself. Right now I am just happy to be enjoying food and being safe! Update- I am a boy & I say Hi Baby! I am still scared of hands but I don`t bite and will snuggle into them when you get me. Really though, I would love a little friend! 8/18/19- update has been placed with Kiwi to see if they get along 9/15/19 Kiwi is leaving Atti due to health issues. Attica is a perfectly healthy boy who likes to interact with other birds. If you are interested in me please let the lovebird coordinator know! Triple tweets!