Alex M
Bird ID: C2019014
Species: Parakeet
Sex: Male
Sub-Species: Standard Budgie
Health Status: Special Needs
Good with Kids: Unknown
Well Socialized: Unknown
Adoption Status: Foster on 2019-05-29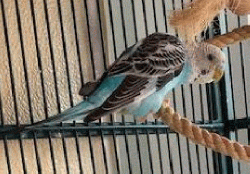 My Sponsors: Sponsor Me!
If you're approved to adopt, click here to email my adoption coordinator.
To learn more about fostering or adopting our birds, please click here.
---
UPDATE: Here`s a new picture of Alex on his boing (which he flew to on his own) If he looks kind of hunkered down, that`s because the boing is swinging back and forth! Hi, I`m Alex. I am a very young male (we think) budgie. I came to Mickaboo with a broken leg that was not a recent injury. Sadly, the leg below the break had become necrotic and the vet had to remove the dead portion. But guess what? This doesn`t slow me down one little bit! I am still able to fly and land without apparent discomfort. And I am a trickster - when the person who rescued me would carefully open the box to give me food & water, I would burst out like a slingshot! My rescuer says that I am definitely a survivor and I`ll be a happy challenge for my adopter. Oh, my cere is still purplish and since I`m so young that`s why we`re not sure if I`m a boy or a girl. I`m still at the vet for care, but after that, I`ll be available for my forever home. Do you have it in your heart to be that home for a feisty little survivor?