Bobbi McGee F
Bird ID: C2019010
Species: Parakeet
Sex: Female
Sub-Species: Standard Budgie
Health Status: Healthy
Good with Kids: Unknown
Well Socialized: Unknown
Adoption Status: Adoption on 2020-01-08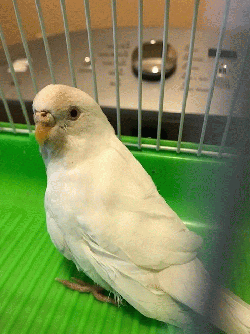 My Sponsors: Sponsor Me!
If you're approved to adopt, click here to email my adoption coordinator.
To learn more about fostering or adopting our birds, please click here.
---
Hi, I`m Bobbi McGee. I came to Mickaboo from the Fremont shelter. I was definitely someone`s beloved pet. I eat Nutri-An cakes, I nibble broccoli, and I don`t bite unless I`m frightened. I`m skittish but calm down if you pick me up (weird, right?). I am a bit hormonal but you can manage that by making it hard for me to find a brooding place (for example, I alway sits in my food dish, so make it clear plastic so it doesn`t feel like a hidey-hole). I probably ended up at the shelter because I am *quite* the escape artist! I managed to get out of a hospital cage THREE times - once I popped the top off, once I got out through the little opening in the lid, and once . . . my foster parents have no idea how I did it. So now the top of the cage is covered by three large cans so that I stay put! I`m was checked out by the vet, and I`m ready for a forever home - maybe with you?