Peewee F
Bird ID: C2019008
Species: Parakeet
Sex: Female
Sub-Species: Standard Budgie
Health Status: Healthy
Good with Kids: Unknown
Well Socialized: Unknown
Adoption Status: Foster on 2019-03-08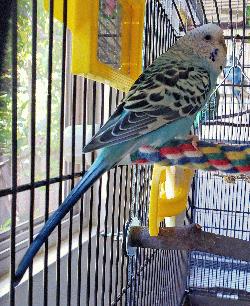 My Sponsors: Sponsor Me!
If you're approved to adopt, click here to email my adoption coordinator.
To learn more about fostering or adopting our birds, please click here.
---
Hi, I`m Peewee, and I`m a rock star! I`m young and feisty, and I`m a girl who just wants to have fun. I like to do gymnastics on my perch and all around my cage. I love climbing and swinging on my favorite toys. I enjoy singing, and I`m working on some great new tunes that I can`t wait to sing for you! One of my foster parents has been putting his finger in front of me lately. Sometimes I step on it, but it makes me a little nervous and I jump right back off again. Hmmm . . . I wonder when he`s coming back? Now that I think about it, it`s kind of fun! Maybe you are the forever home who would like to tame me to perfection? I`m looking for you!