PJ
Bird ID: H2019006
Species: Conure
Sex: Male
Sub-Species: Green Cheek
Health Status: Healthy
Good with Kids: Unknown
Well Socialized: Unknown
Adoption Status: Foster on 2019-11-30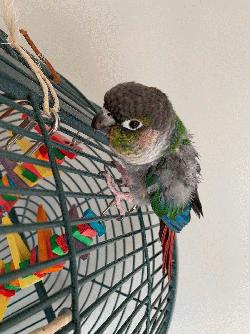 My Sponsors: Sponsor Me!
If you're approved to adopt, click here to email my adoption coordinator.
To learn more about fostering or adopting our birds, please click here.
---
Hi! I`m PJ. I`m kind of new to Mickaboo - and I`ve got a bit of a feather chewing problem. But the vet checked me out and I`m healthy, I`ve just been allowed to nest too much and get all hormonal.. so we`re fixing that with a few shots of lupron and a better environment. Hopefully my feathers will look a lot better soon!