Ginger F
Bird ID: C2019001
Species: Parakeet
Sex: Female
Sub-Species: Standard Budgie
Health Status: Healthy
Good with Kids: Unknown
Well Socialized: Unknown
Adoption Status: Foster on 2019-09-15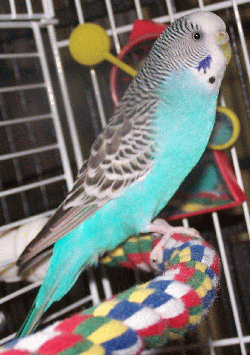 My Sponsors: Sponsor Me!
If you're approved to adopt, click here to email my adoption coordinator.
To learn more about fostering or adopting our birds, please click here.
---
Hi, I`m Ginger! I`m a cute little girl who stepped right up on the shelter worker`s fingers when I was coming home to Mickaboo. I didn`t bite! I am not crazy about the budgie cakes I`m being fed, I aim for the seed part first! I will pick at lettuce or greens because I see my sister fosters doing so. I tweet rather than chirp, I love to talk to the other budgies. I am lukewarm about toys but I play with a couple. I am a cute girl and I would love to join your forever home.