Icelyn
Bird ID: B2018014
Species: Lovebird
Sex: Unknown
Sub-Species: Peach Faced
Health Status: Healthy
Good with Kids: Unknown
Well Socialized: Unknown
Adoption Status: Adoption on 2019-11-22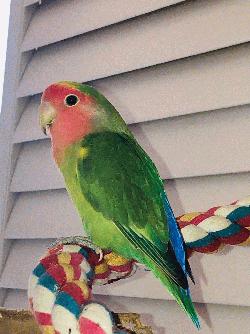 My Sponsors: Sponsor Me!
If you're approved to adopt, click here to email my adoption coordinator.
To learn more about fostering or adopting our birds, please click here.
---
Hi there! I am Icelyn, the fabulous and feisty! I am a pied peach faced lovie and am just as cute as can be! I sort of lost my way and flew into a window damaging my beak a bit but it is healing nicely. My foster mom says I am a nice bird and not a biter but will need some socialization. I personally just want a friend and may soon get one! I do calm down when being held so I think I have a lot of potential! I am a bit new so more on me later....I have toys to demolish! Ciao for now! Icelyn UPDATE- 9/2019 Icelyn is doing well, gets along great with other birds and is a wonderful little bird who loves to explore and play. We think she is a female though without DNA or laying an egg nothing is for sure. If you are interested in Icelyn or any of our lovies and have not yet gone through the adoption process please see the link on how to adopt/foster. We really need more fosters or will not be able to help these little guys. If you are already a part of Mickaboo or started the process and are interested in a bird please Email the coordinator. Thanks so much!